Welcome to the third and last part of the Massive Interface Fail Trilogy. In this series of articles I'm discussing the manifold interface design shortcomings in BioWare's Next-Gen RPG Sci-Fi blockbuster Mass Effect.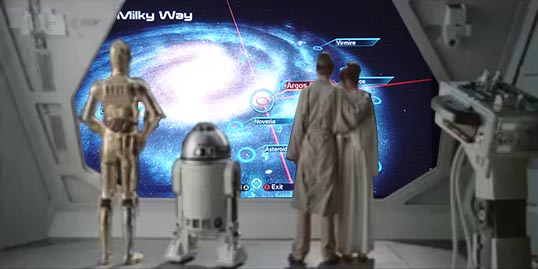 - "Ok, Artoo. Now zoom out. NO! Don't close the galaxy map! Goddamn Artoo, if I only had a healthy hand, I'd smack you!
As previously stated, almost EVERY screen in Mass Effect contains at least one major interface design flaw. In previous parts (Part I here and part II here) we already discussed many parts of the interface – from extremely common screens such as the HUD to more obscure but not better-designed parts like the "Recovered Items" menu. This time, I would like to address the remaining parts of the interface. They are remarkable because they include what seems like the most commonly praised parts of the interface. In reviews of Mass Effect it is often the galaxy map and the conversation menu which receive some favorable mentions. While I do understand why, that doesn't mean they are well-executed from the standpoint of interface design – sadly. So let us finish this epic saga by taking a closer look at those audience favorites.
Galaxy Map
Ooooh, beautiful. I almost forgot the interface screwup.
So Mass Effect does feature some quite enjoyable pieces of interface design. But this doesn't mean they aren't flawed. One of those more enjoyable parts is the galaxy map. Back on your space ship you can access a holographic map of the galaxy to travel between planets. The map looks actually nice. The team used images from the Hubble Space Telescope to construct quite striking 3D nebulae. Of course, scientifically speaking they are criminally inaccurate but why would I criticize the game's scientific plausibility when it's already spoiled by bad interface design anyway?
Button layout inconsistency (again): So we had inconsequential button layout when dealing with Omni-gel. We even had sub-menus with no cancel buttons. What could BioWare have possibly done worse? Well, this one is my personal favorite. It is actually what started the entire article in the first place because I noticed it from the very first second and it never stopped bugging me, even after my 3rd playtrough or so.

So you enter the galaxy map by pressing the green button (A). In the galaxy map, you can actually zoom further in, also using the green button. There are 4 levels of magnification – galaxy, cluster, star system and individual planet. You zoom in using the green button just like you navigate deeper into other menu structures elsewhere. But pressing the red button (B) doesn't actually zoom out to the previous level like in other parts of the interface – oh no. Pressing the red button will actually close the entire galaxy map altogether.

Lesson: Spelling out awful button layout choices doesn't make them good.

This means you lose whatever position you've managed to navigate to. This also exposes you to painful seconds of loading times as the game re-loads the ship architecture you didn't want to see in the first place. And of course re-entering the galaxy map also takes a short loading time. There is a zoom-out button but its the blue one (X). The blue button is used for a lot of things in the game but never to actually exit anything – except for this time.

Compared to the previous failures of the interface, this seems like a minor gripe. However, during my playtroughs it never failed to amaze me how much anger and frustration this arbitrary violation of basic menu navigation conventions was able to summon up. And no, even after tens of hours of play time, I could never get used to it. I don't think I'm special this way.

Missed chances for cross-referencing: And yet, there is still another problem. The galaxy map highlights individual systems that are vital for the main quest. It's funny how that works exactly against the actual needs of a player like me. I had no problems remembering the 4 planets I had to visit to see the end credits. I had much more troubles keeping track of where the 30+ side-quests take place. I often (more than 30 times to be exact) found myself randomly landing on planets and having to figure out what I'm supposed to do as I go. At least some cross-referencing between my quest log and the galaxy map would have been tremendously helpful. You know, linking Google Maps to your Google Calendar is not very difficult even today. Do you think we will lose this kind of technology in the distant future?
Journal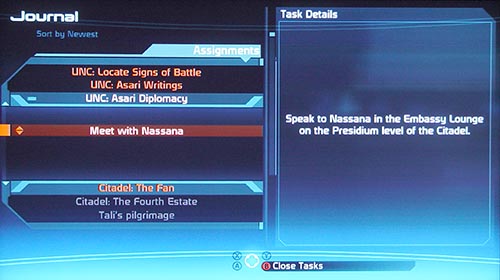 Mass Effect tells the epic story of humanity's struggle to recover the ancient, long forgotten technology of "show this address in Google Maps".
Speaking of quest logs, I must admit that the quest log (call "Journal") is one of the least broken interfaces in the game. I almost gave it the green light if it wasn't for the already mentioned flaw.
Missed chances for cross-referencing (again): So from within the galaxy map there is no cross-referencing to the journal. Is there such a linkage going the other way around? Of course not! So when browsing through your journal the process works like this: you have to pick out and remember the name of the cluster, star system and planet from the text the journal. I actually recommend writing this down on paper to prevent tedious backtracking in case your short-term memory loses the race with the game's loading times. Then you have to exit the journal, walk up to the galaxy map, launch it and struggle with it's interface while you are blindly trying each possible cluster to find the name you are looking for. Because the names of the clusters, systems or planets only pop up when you highlight them with your cursor. Obviously. And whatever you do, remember not to press the red button because you will have to do it all over again. If you are a game designer and this sounds like a reasonable modern RPG experience to you, I would recommend considering a different career – ESPECIALLY if you work for BioWare.
Conversation Menu
Ah, my Shepard. He has a face only his mother could love but a heart of made of gold…nah, just kidding. He's actually an asshole, too.
The best comes last, right? The conversation menu has been often applauded as being one of the most remarkable things in the game. I must agree that the circular layout is a quite prominent and memorable interface element. So I can understand why people tend to recall it so often. The actual usability of said circular menu is actually noting remarkable. Circular menus have been tried numerous times in the brief history of interface design. While they occasionally have an unexpected feature that can be exploited for some exotic purpose, the benefits rarely outweigh the extra effort associated with integrating them into a layout scheme. In the case of Mass Effect, a regular menu would have done it just as well. The remarkable quality of conversations comes rather from the sharp writing. But it's much easier to give the weird-looking gizmo all the credit, isn't it?
Not quite consistent menu layout: One of the quite interesting features of the circular menu is that all conversation is spatially structured. So all answers in the upper part are often "good" and all answers in the lower part are often "evil". Answers on the left tend to investigate and explain certain points while answers on the right tend to lead a conversation to a conclusion. I already mentioned how I find this is actually a remarkable feature I would like to see developed further in other titles.

There is a certain systematic according which the answers are arranged on the circular menu. This is actually a good idea, if only…

But the conversation system stumbles quickly over the very structure it created. So for example, quite often you will find situations where more than one dialog choice investigates something without being morally colored. But the circular menu only allows for one such answer. So the developers chose to randomly ignore the system whenever they see fit. They also chose not to communicate that to the player in any way.

… if only the Mass Effect team was able to maintain consistency. The answers "C-Sec" and "Attitude towards humans" aren't actually morally colored in this case. No hints that the system has changed.

This inconsistency undermines the entire system. Which is a pity because it was an idea with potential.

Missing information (again): And again, you will often find yourself in situations where information is partially hidden from you. So in some cases your diplomatic skills and moral alignment can open up special conversation options. These options are highlighted by color to distinguish them from the "normal" answers. In some cases you may not meet the requirements for a certain answer. In such cases, the answer will be grayed-out.

The red answer is something I can say because I'm an asshole. The blue one is greyed-out because… nobody knows.

In neither case does the game actually communicate what the requirements for a particular answer are. So if you can't select an answer, you have no clue as to why and what you can do about it. You will never know how to explore that possibility in a future playtrough. On the other hand, as we have already established, the stats screen is quite poor at communicating your moral stats anyway. So even if you knew the moral requirements for an answer, you couldn't even check them against your current alignment. I guess if you do enough mistakes in interface design, you eventually get into an area of diminishing damage.
Conclusion
And that does it for this epic failure trilogy. I'm sure I missed a lot of flaws. If you have noticed any feel free to point them out in the comments.
As I already mentioned, considering the experience of the company and the magnitude of the game, the state of the interface is outright insulting. I believe many of the mentioned faults can be attributed to a lack of resources – especially time. This lack is quite apparent if you look at other parts of the game. However, at some mistakes don't seem to have a rational explanation other than incompetence. The real Litmus test will be Mass Effect 2. I assure you I will be here to check whether BioWare actually learned from their mistakes. The outlook right now is not so good. I was able to play a demo very briefly at GamesCom 2009 and sadly, I re-encountered many of the mentioned problems. (EDIT: The follow-up article is here)
I'm pointing out especially Mass Effect because as you saw, the sheer number and seriousness of mistakes is really outstanding. I also point it out because of the extreme contrast to the game's reputation. Other blockbuster games – like Fallout 3 for example – may not have perfect user interfaces either. But the mistakes are often localized and the interfaces have redeeming qualities otherwise. Mass Effect is the only AAA game I have met with a consistently abysmal quality of interface design.
As such I believe it should be a reminder for aspiring game designers that interface design and information design, two fundamental cornerstones of successful game design, shouldn't be taken for granted – not even in big-budget productions. They do not come out of nothing. They can't be downscaled to cut corners. They can't be covered up by flashy graphics. Even modest success in those disciplines is a never-ending process of thorough research, careful observation and diligent playtesting. This is true whether you are a small, newbie indie game developer or a huge, allegedly experienced studio like BioWare. Like with peace, the price of good design is eternal vigilance.
Note: This is part III of the Mass Effect: Massive Interface Fail trilogy.
Part I is here
Part II is here
The Mass Effect 2 follow-up is here