This is my (very) subjective review of Okami. To summarize it: I can't play the game. It's unbelievably unplayable for me, due to shockingly bad details.
Ever since it was released on PS2 and got rave reviews about its style and concept I wanted to play, even own it. Then Yu-Chung reviewed it and even mentioned that a Wii version would be released. Over one year ago I purchased the Wii version but haven't played it until now, due to the lack of time and my backlog. Last evening I could play it at last.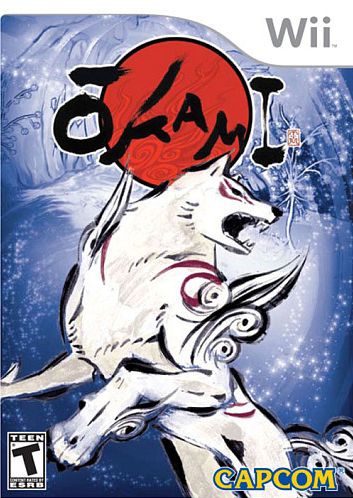 Great box design, i really love it.
But boy, was I shocked about how bad some simple aspects of the game turned out. They made me end my playing session after approximately 30 minutes of (play)time.
As a last disclaimer, I want to mention that will only list negative points. This doesn't mean that I didn't found many details and the overall concepts and intentions good. But the overall result is, that the details I will list prevented me from playing the game in the future and that is what ultimately counts.
When starting the game, the introduction "video" started. I was pleased with the story.
Sadly the intro text characters appear very slow and I was annoyed how many text boxes I had to read (and wait trough). I must admit that I am a quick reader, but the main problem here is probably that the original Japanese version had many characters inside the text box that would finish complete sentences. In German, a rather verbose language, every sentence took about 3 to 4 boxes. At least they programmed it correct, so that the "scene animation" paused until the appropriate text was delivered, but this took awfully long.
If I had to fix this, my solution would have been simply to make the text box bigger. I would make the box wider at least. I would also consider making it higher. This might obscure some of the animation, but both is equally important – at least in a game without voiceover. I would also avoid the auto-appearing text. I'd make the appear-effect way quicker (not in speech speed) and allow the player to press/hold a button to speed it up, skip the appearing effect and jump to the next text box.
After the intro I started a new game. Sadly this replays the story, and not in (already long enough) brief-intro-mode but in a verbose variation. After about 5 minutes of "wait until the text box finished" I used the skip button (at least this is available!) just to find out that there are 3 introductory parts of the storyline you need to skip until you truly get to control the character (play the game). How many centuries need to go on until every game designer realizes that gameplay at the beginning of a game is crucial to success? Show at least the first 5 minutes for gameplay, before you present your gigantic cinematics etc.
Another ugly detail is the text box design itself. It's got an "brush stroke" frame, that has some wiggly twists. This would basically look quite okay and suite their style, but they animated it to jump between a few (3,4?) variants. So while you are reading rather large amounts of text on a (low rez) TV, the image is constantly jerking, jiggling, wiggling and wobbling. You do not need to have Photosensitive Epilepsy to become quite sick from this. If you can't find a good-looking frame design for text boxes, make them more neutral, more flat. Never animate them besides fading in, fading out and maybe a special "urgent" variation. Aquanox 2 had a huge amount of text-based story. We simply used an interface that looked like a futuristic chat window.
This may look a little bit boring, but story is best digestible in a reduced styling.
OT: Somebody made a mod for Fallout3 to use Aquanox 2 gui textures, I think it fits perfectly!
But I have more gripes about the text presentation of the story: the text-to-speech sound effect. Instead of having a voiceover (which I personally most often personally dislike and thus have no problem when it's missing), they have a sophisticated sound effect that imitates speech. At first, this sounds interesting and quite well. But after many, many minutes (remember the long introduction? exactly!), it eventually starts getting on your nerves. But it's not even the worst in the introduction, as the sound effect is low pitched, like a male storyteller. When you actually start playing the game, you have a friendly fairy giving you all sorts of tips, being your buddy and making fun about you and each and every situation. This may be cute, but the chosen sound effect is very high-pitched and after the first three text boxes annoying as hell. Solution: go with the way Nintendo does voice-over-less sound effects. Have a rather neutral text appear sound effect and play Aaahs, Ooohs, Sighs, etc. to transport the necessary emotion of texts.
At least you can skip the faerie's text boxes appear-animation, by pressing A (which you also need to press to continue after a text box page has been completely filled). But enough of text presentation for now, the game has many more problems.
For example, the resolution is quite poor. I've played it in PAL (576 pixel height) on my Wii on a Full-HD LCD screen. I can tell it worked, because the rather tiny numbers in the GUI were clearly using the full resolution. But the game's 3D world is rendered in a lower resolution, unidentifiable due to post processing effects. It appears like the game is rendered in approximately 500×400 or even lower, which is very blurry. It may be due to motion blur or bloom or their sumi-e style rendering, but it is clearly visible on every screenshot on the web:
So blurry I get a big headache.
Sharp visuals were already possible early 90s with 16 bit technology.
After the technical issues, let's move on to the gameplay, which is unquestionable the stylish idea of 2D painting into 3D scenes to issue special actions. The first time I encountered it, I was asked to finish a star constellation in order to make a dragon appear. The task was quite simple – just paint one single dot that then becomes a star. But the game fails to present this simple task properly. The translated text says "press B button", which is only a minor mistake but still incorrect. If you follow the instructions, you do not draw but instead your fairy repeats a previous a text, which sounds like it wasn't your turn to draw.
But the real issue is, that you have to "hold B button" in order to enable the drawing mode, then "hold A button" to actually start painting. If you want to draw a dot, you only need to "press A button" while still "holding B button". This is, of course, only a minor mistake, but it took me 5 (five!) times to get it right. Every time, I have been punished by the fairy repeating "Oh, I can't do it". Lesson: Make sure that failing to do a task is clearly communicated. Make sure that when a player fails a task repeatedly, a permanent hint message appears (for example "B – OPEN DRAW MODE") in order for them to experiment with what they're doing wrong. If its clear that B is the correct button, the second thing to try after pressing it would be holding it.
Nevertheless, I solved this unintended "puzzle" and continued my journey. Sadly I didn't get far. I came to the river made of star dust. The fairy hints that she does not believe that it's possible to "repair" the "broken" river by doing the "repair paint" trick. It's rather clear, that this is supposed to be a hint to actually try it out nevertheless.
So I stood on my side of the river, held the B button and painted the easy repair pattern – a zig zag motion – wherever the river seemed to be broken. A sparkling particle effects appeared and gave me the good feeling that I was successful. Now I could swim through the river to to other side.
Or so I thought. This wasn't actually possible because the river just ended midway trough and I couldn't swim further. Of course I thought I didn't do the painting correctly or needed to do it multiple times. Thus I swam back and tried again. No use. Here the spoiler: you do not have to repair the water, but just paint it where necessary. So if you swim halfway and then hold B button and paint more, you can reach the other side. If you try to paint this from the start point, the perspective will not allow you to do this as easily and you won't be able to finish the river all the way to the other side. It is clearly a pitfall of 2D painting in 3D perspective. It could have been solved easily trough level design by making the river narrower.
Well, of course this annoyed me further, I didn't stop to play the game, as the visual style and advancement of story held my attention. But I did not made much further. Approximately 5 minutes further into the game, the fairy asked me to use a sword stroke to split a huge rock into two pieces. She even asked me to do this horizontally and showed me an animated reference line in un-ignorable red color.
But after trying for about 50 times to do the cut, with all variations of slowly, quickly, precise (no jagged edges), zig-zag and whatnot, I still didn't manage to cut the rock. How much could I possibly do a mistake that no beta-tester at Capcom or Clover wasn't able to spot? As you can probably guess, I'm still clueless about this stupid situation. I gave up to the play the game and decided to write this "review" instead.
Hopefully you can understand that I initially did not intent to bash the game. However, with so many details that went wrong, I clearly can see why despite 90% average score the game neither sold well nor saved the developer studio from closing.