Mass Effect received a lot of praise when it came out. It still receives a lot of it. It is considered as one of the prime examples of next-gen western RPGs. It is a status I don't think it quite deserved. Yes, Mass Effect offers a visually and thematically rich, cinematic experience. But that thin veneer only barely covers an otherwise amazingly unpolished game. It is a game with great but unfulfilled ambitions. In that sense, it is an prime example of western RPGs, indeed.
"You won't get away with your sloppy interface design this time. I'm gonna track you down."
One can argue a lot about the various shortcomings of the game and whether or not they bear a significance to judge the game. But one particular area leans itself pretty well to a thorough analysis as it provides some tangible evidence to root the debate on actual facts. Almost EVERY screen in Mass Effect contains at least one major interface design flaw. When discussing this with fellow gamers, my observation was often met with disbelief. So I set out to list all of Mass Effect's interface design flaws.
The endeavor turned out to be more laborious than I thought. The first draft was over 7500 words long. It became one of the reasons why I wasn't able to post for such a long time. I decided to split the article into an epic trilogy of interface failure – somewhat fitting considering the game is an epic space opera. So without further ado, let us open up the first chapter. In a world of bad design choices and poor execution, there was one game that ruled them all…
Character Customization
Lazy interface design. Lower their expectations off the bat. A great way to introduce players to your game.
The game greets you with a series of menus for customizing the appearance and character of the player's avatar. The system for generating different faces is generally quite capable. It's only shortcoming is it's inability do render realistic hair. You are offered a huge variety of very short hair styles, even among the females. The very few long hair styles look like they are shells of solid plastic. Otherwise, the faces you generate tend to look fine. However, the system seems not to fulfill it's true potential due to a our first interface flaw:
Blind re-using of generic interface elements: Facial features can be controlled by adjusting horizontal sliders. This works well for values like "Mouth Width". A slider is good for controlling a linear value like the size of a certain feature. The problem is that the developers also chose to use the very same horizontal slider for properties like "Mouth Shape". Instead of a linear value, this is a collection of various presets. A slider is pretty much the worst possible control for selecting an item from a collection. In oder to make a decision, you are forced to flip through ALL possible values. And you always see only one choice at a time, which hampers your ability to make comparisons between different choices. To add insult to injury, the sliders are continuous and don't even have visible segmentation. So you have no clues about how many presets there are and which preset you are currently viewing. Finding a certain preset again after you flipped through some alternatives is often just impossible.

Instead of generic sliders: Mouth shape selection done right (via myavatareditor.com)

Avatar customization has become important in the recent years and we already have great examples of proper interface implementations. For example, the Mii editor on Nintendo Wii features an array of buttons for selections of different shapes of facial features. Each button has a small thumbnail preview. This gives you a quick overview of possible choices, allows quick comparisons and facilitates returning to previous settings after changes have been made.

In contrast, the solution in Mass Effect is sloppy and lazy. Instead of considering the interface requirements for each facial feature separately, a common interface element was used regardless if it's the right one to do the job. It's a solution to save time for a few programmers on the expense of a huge mass of users. It is also a solution which would be more likely to be used in a scenario where there resources like time are scarce. Cutting corners on an interface that players only see once per game would be a rational choice. Is this a hint to what the game's underlying problem is? Let's see.
HUD
The HUD. What could have possibly gone wrong?
Let us move to something more common: The HUD. The interface overlay on the in-game view is a a very small piece of information design but one that is quite important as you stare at it most of the game. You might think that with the little amount of information it needs to communicate, BioWare should have managed to get that right. After all they do have some considerable experience in developing games. So imagine my surprise seeing so blatantly obvious information design flaws as here.
(Bad) Styling obscuring function: Let us focus on the health bars in the lower right left corner. Off the bat, that entire area is set in italics. An unfortunate choice as it is difficult to compare the three health bars with each other when they are aligned along diagonals. Also, it makes them all rhombuses and you know what they say about rhombuses. What baffles me is WHY they set that part of the interface in italics. Italics aren't use ANYWHERE else after all.

Arbitratry and misplaced italics (actually backwards-italics). Percentage bars have different lenghts. Great solutions if you want to PREVENT players from comparing health bars.

But things don't end there. Note that the health bar of the character "Shepard" is longer than the others. The obvious explanation to that would be that Shepard has more health than the others. But he doesn't. From playing the game longer than is good for me, I can say with confidence that the length of the bars doesn't change as the characters level up. So I conclude that it's just a percentage bar. Making a percentage bar longer than others you compare it to is a major information design failure. It's difficult to comprehend because it implicitly makes players arrive at a wrong model of how the interface works. More fundamentally, it just makes comparisons between the three health bars even more difficult than it already is with the italics.

I can only speculate that the idea was to highlight Shepard as the main character. Graphic Design 101: use a larger font, put his name on top of the list rather than in-between, use spacing and text indent to make the other names visually second-order to the main character.

Poor choice of icons: Let's stay in this area of the interface and focus on the two symbols right from the health bar. Here is a interesting experiment to repeat at home. Ask a person, who doesn't know Mass Effect what the symbols mean.

Can you guess what those mean?

They might guess that the upper icon has to do with health. But I'm pretty sure they will never guess that the lower bundle of lines is supposed to be a grenade. You see, grenades in Mass Effect are discs. Using a that disc as an icon for grenades is a typical example of the designers with a poor understanding of semiotics (using and "icon" where a "symbol" would be more fitting). A good counter-example is the use of a conventional consumer photo cameras as symbols for speed cameras in traffic signage. The actual camera may look nothing like a consumer camera but the shape of a consumer camera is more familiar and thus easier recognizable.

Using symbols instead of icons can facilitate recognition. Of course in UK, they're doing it rong.

The first, health-related icon is just barely recognizable and only because of the use of the familiar cross. Again, one is left to wonder why the designers chose to muddle up the meaning of it by adding useless additional elements. It's not that they contain any additional information.

It's also worth pointing out the poor typography that comes with the poor choice of icons. The numbers representing the number of health-packs and grenades are also in italics and distorted. There is also little margin between them and the icons. They are barely legible – an unfortunate property of such a vital piece of information.

Poor success feedback: Another problem with the HUD is how badly it communicates success. Every time you kill an enemy or solve a quest, you get a short summary of all the experience points, money and loot you got. You also get a notification of you level up. However, that information flashes for only around 4 seconds or so. There is no way to bring it back up or read it in a log of messages. It is also set on a tiny font. Finally, important information is missing context. If I get XP I don't know how much more I need for the next level up.

For the proper Mass Effect interface experience, try to take in all this in 4 seconds… while fighting alien cyber zombies.

Making mistakes in this part of the interface has even effects on the actual core mechanics. The driving engine behind each RPG is mostly an endless circle of performing a certain task (killing baddies) to get better at performing that very same task (killing baddies faster). This cycle is kept alive by constant feedback. Players need to SEE that they get better. Considering this I don't quite understand how the developers could have made such mistake. I guess if you develop the game for a long time you get so used to the messages that you are able to scan them quickly enough. But then again, this should have been picked up by testers. However, there also might be a different motivation behind this. Let us keep that in mind and continue
Character Management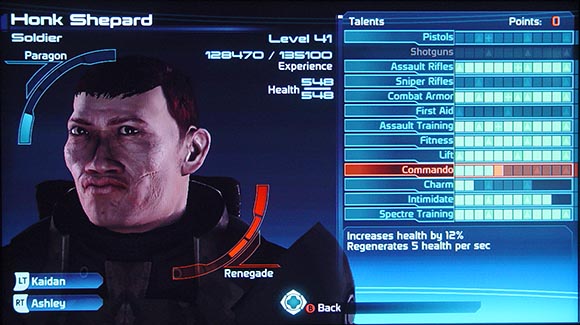 To go with the failure theme of this post, I tried to create the ugliest character the Mass Effect face generation system can support. Can you do worse?
Let us move into the more elaborate interface screens. If you manage to pick up that your character has leveled up you might find yourself in the character management menu where you can actually see and improve your stats. Or rather you should be able to do that. But this is Mass Effect after all.
Missing Information: The interface looks fine at first glance. You have lots of information on your characters and you can upgrade their skills by filling in cute little boxes. But then you notice that the information provided doesn't quite add up to a complete picture. So you get information like that upgrading a certain skill "Regenerates 5 health per sec". This seems like good info but it's only useful if you also know what you current rate of health regeneration is and whether the improvement increases you rate by that amount or replaces it. Also, as your characters also use stats-boosting equipment, it would haven been nice to know what impact the upgrades have after all effects have been accounted for. All this information is curiously missing.

Information is useless without context.

I have a theory on why it is missing. I believe BioWare tried to make a boiled-down version of an RPG. They seem to have tried to make an RPG that could be also enjoyed by the typical Halo player. If this is true, the execution of that idea went very wrong indeed. It is as if somebody wanted to make a bicycle that people would have less troubles learning to ride – by removing a wheel.

Simple doesn't always mean easy to learn. (via Flickr)

Hiding information from the player is not a good idea if that information is still vital. It is especially a bad idea if you still have other game elements that reference this information. In this case it backfires completely and actually accomplishes the very opposite of what the game developers were probably trying to do. It makes the game more difficult to learn and understand. Tufte may be a bit of an information design snob but in this case nothing fits better than "To clarify, add detail".

Inconsistent use of visualizations vs. quantifications: Let us try to make sense of the various numbers and bars that are still present.

Three different values, three different visualization strategies. All fail.

We have health points, "Paragon" and "Renegade" bars and experience points. Note that each one of these values uses a different representation strategy. Experience Points are two numbers divided by a slash. Health points are also two numbers but written out as a fraction. "Paragon" and "Renegade" are curved percentage bars. There seems to be no reason to use so dramatically different strategies. The strategies also clash with the way those values are represented elsewhere in the game. So in the HUD, you don't actually see the number of health points, just percentage bars. Conversely when you receive "Paragon" or "Renegade" points you get the actual numerical value in the HUD. Here in character management menu, those values appear as bars without any numbers. This effectively prohibits information transfer from one part of the game into another.

And on top of it, the actual choice of representation is very poor. The curved bars may be stylish but prohibit any comparisons and also lack explanations – what is a "Paragon" anyway? The number of experience points lacks punctuation for number formating. Proper number formating is imperative in such long numbers – especially when you use fonts that have such a great disparity in character width. I don't want to nerd rage too much in this review but if I was really trying to confuse people by bad information design, I would have a hard time to come up with something worse.

Not all team members available: There is a third problem with this menu that isn't apparent on the screenshot. You may notice that you can flip trough the various characters using the shoulder buttons. The hidden problem with that is that you can only access characters that are currently with you. You can acquire up to 6 characters over the course of the game. Only 3 of them can be part of your away team at any given time. For some reasons you can't view the stats of the characters that are not in your team right now. You can only switch characters when you leave your ship. This means you need to actually begin a mission with a character to access it's stats screen. This prevents you from using the information in the stat screen to make an informed decision about which members to choose for the away team. Inconsistently, the characters not in your team will still receive experience points and still level-up. You just can't see it. It may be not that big of a deal in case of stats but just wait for the equipment screens…
End of part I
But before going there we make a short break to catch our breath. The next chapter will deal ONLY with the parts of the interface that deal with items. It is here where the most severe and most unbelievable mistakes were made. Until then, I'm eager to hear you comments on the subjects we discussed so far.
Note: This is part I of the Mass Effect: Massive Interface Fail trilogy.
Part II is here
Part III is here
The Mass Effect 2 follow-up is here