Game Design Reviews Podcast is back after a long break. We start with a look back at the last year. We have recorded this podcast in January but only now came around to publish it.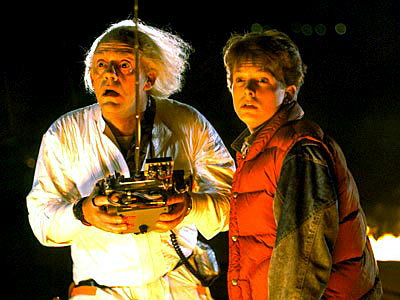 Great Scott!
Download Episode 5 (58MB, 123 Minutes long)
RSS Feed for the Podcast
iTunes link
This time we discuss the games we have played in 2009 and look forward to 2010, which back then was still future but which is now the present. Isn't this just crazy?!
00:01:50 Yu-Chung on Resident Evil 4
00:14:53 Yu-Chung on Prototype
00:22:22 Yu-Chung on The New Super Mario Brothers Wii
00:37:32 Fabricio on Street Fighter IV
00:59:06 Fabricio & Krystian on Fallout 3
01:21:41 Krystian on Need for Speed: Shift
01:35:06 Krystian on Red Faction: Guerrilla
01:42:43 Krystian on Downloadable Content
01:46:38 Yu-Chung on On-Live
01:49:57 Recap
01:58:58 The Game That Noby Played: The Tone Rebellion
Music as always by Dualton / Patrick Keuthen
Feel free to leave a comment. We are very eager to hear your opinion.