There are very good reasons why Batman: Arkham Asylum is so critically acclaimed. It is a very good Metroid Prime clone, heavily modified to faithfully convey the characters and the world of the Batman universe. It is a good example on how to make license games.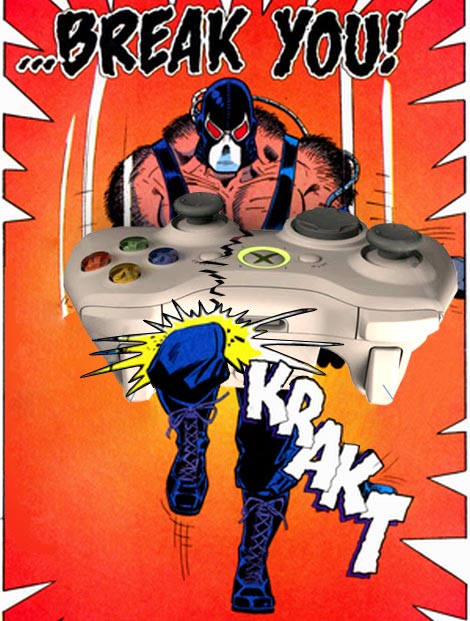 Dramatization of actual gameplay experience.
Yet, Arkham Asylum has some very clear flaws. The reason why they have been overlooked may be because they only become apparent once you put some stress on the game's systems. This rarely happens during the single player campaign. Unfortunately, it is the very idea behind the combat challenges. I have prepared an entire series of YouTube videos this time, so let us take a look at this dark side of the Dark Knight and consider how Akham Asylum could have avoided those problems.
All features and mechanics of Arkham Asylum are tailored to perfectly represent the ideas behind Batman. The combat system is well in line with this philosophy. It is clearly focused on Batman fighting large groups of enemies – exactly like you have seen it in the comics or in the movies. You jump around from enemy to enemy, distribute brutal blows and use gadgets to wreak havoc. Consider how the game reacts when there is only one enemy remaining. Instead of having to punch one poor guy into oblivion, the game instantly toggles a sudden death mode. The very first punch you deliver instantly knocks out the last guy, no matter in what condition he is in. The combat is just not about mano-a-mano, it is about batmano-a-manos.
*BIFF!!* Arkham Asylum depicts the kind of group fights that have been a mainstay of the Batman series since it's inception.
Yet, by the end of the single player mode something strange happens. The game seems to indulge a bit too much in throwing the player into combat situations. The last two bosses repeatedly combine goon combat with typical boss battles. It is as if the development team was so in love with the combat system that they were reluctant to let it go. Or perhaps they had to use it as a crutch because they couldn't come up with interesting boss battles. The result for me was a mixture of frustration and weariness. Not the best way to finish a game, but it's certainly better for the sake of first impression to have the weak parts in the latter portions of the game.
But then Rocksteady chose to include a challenge mode. It consists of especially difficult byte-sized challenges. They come in two variations. The Predator Challenges have Batman clear out a room in a stealthy manner while completing certain additional goals. The Combat Challenges have Batman fight 4 waves of enemies in a row while collecting points. A dramatic dichotomy opens up. The Predator Challenges are a quick, fun additions that let you explore some parts of the game in more detail for an evening or so. The Combat Challenges are among the most brutal, drawn-out, frustrating, controller-smashing experiences you can have in a modern game. Doing them alone can take longer than finishing the entire single-player campaign.
It is here where the weaknesses of the combat system reveal themselves. Unlike the varied, task-driven goals of the Predator Challenges, the Combat Challenges are stubbornly about getting a high score. The only way to do that is to chain moves together into long combos. Combos drive up a multiplier that dramatically increases the point value of the moves you make as the combo goes on. You get additional points for using different moves in one combo, not getting hit and finishing a round in one big combo. Also, Batman's moves get more powerful as the combo goes on. EVERYTHING boils down to maintaining the combo. And due to some kinks in the combat system, this is exactly what sometimes just doesn't work.
Trigger
Let us start with something simple. Batman can use the Batarangs and the Batrope Batclaw during combat to stun larger groups of enemies. They are a both crucial tools to thin out overwhelming clusters of goons. However, both gadgets are activated by double-tapping the shoulder triggers. I haven't tried the game on a PS3 but for an Xbox360, the shoulder triggers are a particularly poor choice for double-tapping. Unlike regular buttons, the triggers need to travel quite a distance from the from the depressed state to being fully engaged and vice versa. That's actually the whole point. They are built for controls where players may want to control the strength of an ongoing action – like the accelerator of a car. They are bad at quick taps and especially bad at double-taps.
So what happens is that in the heat of the action, one tends to not fully depress the trigger during the double-tap. The game registers it not as two quick presses but as a single long one. Instead of using the rope claw, Batman will do a quick crouching motion, as if he is tea-bagging someone. Instead of throwing an instant Batarang, the game goes into a FPS aiming mode. In most cases, this leads to an instant loss of the entire combo.
I'm not sure if this is something that could have been avoided by making the game recognize an only slightly depressed trigger. Perhaps this is just a case of fine-tuning. But I almost fear that the problem is a more deeper, conceptual one. Buttons, that would have been a much more reasonable choice – like the bumpers – are taken up by non-combat related functions. Double-tapping is required because holding is reserved for yet some more non-combat functions. It's the action adventure part of Arkham Asylum holding it back from being able to work as a hardcore brawler. A notion that will return to us when we discuss other issues.
Automatic Failure
Losing a combo because of a mechanical problem is frustrating but nowhere near as frustrating as loosing it due to a clear failure of the game's system. The combat system in Arkham Asylum uses an assist that lets batman travel automatically from one enemy to another to deal the next blow. There are clearly reproducible cases where this system just fails. Batman will move to the next enemy, but upon arrival the situation would have changed in such a way, that Batman is no longer able to execute the move. You lose the counter instantly not because you made a bad choice, but because the game made a bad choice for you.
Perhaps the most iconic example is when you attempt a ground takedown right after throwing an enemy off the ledge. The ground takedown move will often target the still airborne henchman. Batman will jump after the enemy, follow him up to the ledge of the level, drop to the ground and automatically lose the combo as he is watching his target fall into the abyss.
There are multiple variations of this theme. Punching after a Batrope Batclaw/Batarang combination will make Batman attempt to punch an enemy that will have tumbled to the ground by the time Batman reaches him. Sometimes even simple ragdoll spasms seem to prevent an already initiated ground takedown. Some of those seem to be partially attributable to a overly active camera – something we will address separately.
In general, the game seems to be bad at predicting it's own behavior. A cardinal sin for a fighting game where success depends on thinking a step ahead.
Counter
Thinking a step ahead is actually a good segway into talking about the many failings of the counter move. Among the many moves Batman can execute, the counter move is the only defensive one. Pressing it during an incoming attack lets Batman prevent the attack and brutally punish the attacker. It's a nice example of how the combat system represents the idea of Batman. The Dark Knight is on the offensive even when he is defending.
But the thing with the counter is that it only works when there is an attack incoming. Pressing counter with no attack around to defend against leads to an instant loss of the combo. So it becomes incredibly important to recognize opportunities for countering. Recognizing incoming attacks with your bare eyes borders on the impossible, which is probably why that's exactly what the game expects you to do when you play the story mode on hard difficulty. On lower difficulty and in the challenge mode, the game enables not one but two indicators that are supposed to help you recognize incoming attacks. None of them work properly.
The first indicator is glowing lighting bolts that appear around the heads of attacking enemies. They are fairly inconspicuous in a crowded scene and don't work if the enemy is off-screen. Which is probably why there is an additional warning message on the bottom of the screen encouraging you to press the counter button. Both indicators have the same problem of suggesting to counter even when counter is not possible. So they will flash if your current animation is actually longer than the enemy's and there is actually no way for you to do anything about the attack. The indications will also continue flashing, if you are dodging and you will be well outside of the range of the incoming attack when your animation finishes. The indicators will even continue flashing even when the incoming attack is past the point where it would be blockable. So the indicators will encourage you to press the counter button even in cases where countering will cause instant failure. I had cases where the indicators didn't stop flashing even after I failed my combo because I was actually listening to them. A cruel mockery of a broken design.
And even without the indicators, the counter is faulty. You see, there is rarely a NEED to actually use the counter. In most situations, you can simply evade an attack by dodging or punching the enemy. And the alternatives are actually much more user-friendly than the counter because they don't cause you to lose your combo if there is no attack incoming. Combined, the game's system actually implies to avoid the counter altogether or at least to be wary about using it. That's unfortunate because the counter is at the core of what the combat system is trying to represent. It's supposed to allow Batman to prevail even when he is completely surrounded by enemies. Instead, the player will avoid the midst of the battle and prefer to skim around the outskirts.
Even then, there still will be certain situations where dodging or punching is too slow and counter is the only way out. With counter not being something you can rely on, such situations become inevitable dead-ends. Of which the game has actually plenty of anyway.
Inevitable Failure
Sometimes in Arkham Asylum, failure seems to be inevitable. So quite often you get hit by things that seem to come out of nowhere. Enemies will suddenly pop in from off-screen to ruin your combo. It feels very much like that scene in Final Destination where a girl gets hit by a bus coming from off-screen in the midst of a conversation. Other times, Batman will dodge sideways and the camera will pan over to reveal that he is actually dodging right into the swinging baseball bat of an enemy. I guess that's like the bus scene only you are the bus?
Of course, this mainly a camera issue but that's not the only problem here. It's also a variation of the auto-targeting making bad choices. Why would the game allow you to jump into an attack? And in fact, there are also plenty of situations where you evade an attack, dodge around and actually manage to jump back into a baseball bat you were supposed to have already avoided. If the auto-targeting isn't able to pick up those cases, shouldn't the collision system at least grant you immunity?
As in Final Destination, it sometimes seems like there are some failures you just can't avoid. Either because the game's system won't allow you to or simply because you didn't see them coming.
Targeting
The inherent relationship between camera and your ability to act also plays a vital role in the difficulty of actually targeting of enemies. While there is a lot of auto-targeting going on, the player can point to a specific direction in which Batman is supposed to attack. This is a vital function to pick up individual enemies but one that is sometimes made infuriatingly difficult by an overly active camera. So there are often cases where during an certain move, the camera will suddenly swivel around. A certain enemy might end up being at the opposite side of the screen than the one you are pointing to.
This doesn't have to be tragic when fighting generic henchmen. But the game sometimes throws in some special enemies. They need to be attacked with a specific move. Attacking them normally, results in an instant failure. Together with the finicky targeting, it is a truly rage-inducing mixture. On multiple occasions, I have spent infuriating seconds of trying to jump over that one enemy armed with an electric club. The camera would spin wildly and somehow, Batman would always end up hopping over the wrong enemy.
But most of the time, the targeting failures are not that spectacular. Most of the time you will just punch in the air and fail the combo right away. There doesn't even have to be a camera involved. Simply choosing between two henchmen standing right next to each other often turns out to be more a matter of pure chance than choice.
Camera
So let us finish this list with a simple, yet extremely common way of how Arkham Asylum let's you fail combat challenges. I recorded around 5 hours of gameplay footage and this seemed to be the most common problem. The situation is always the same. Batman will jump away from a group of enemies towards the camera. Instead of backing up together with Batman, the camera will swivel around and show Batman standing in front on a railing while the enemies are presumably approaching him from off-screen. The only way out of this situation is to blindly attack with a gadget. Of course, this assumes that double-tapping the trigger works out this time and that you manage to target correctly in spite of the sudden flip of directions.
When talking about the reasons for such camera behavior, we can span a nice arc to what we have been talking about in the beginning. It's Arkham Asylum's action adventure origins shining through. Even in combat, the camera is still more likely to follow Batman around and to point in the direction he is traveling in, rather than be concerned about keeping the important information in the frame.
In action adventures, this is ok. After all, there is still manual camera control for looking around and the geometry of the levels is hard to account for. But for a competitive fighting game, this is a fatally wrong solution. Your right hand can't manually control the camera because it's busy mashing the buttons (Monster Hunter can get away with this). And the levels are all simple arenas anyway.
Cracking Under Pressure
So as you can see, the combat system has a lot of issues. Are they proof that Arkham Asylum is a bad game in spite of all the glowing reviews? Of course not! In fact, as already mentioned, I think the combat system is actually really good. It's a believable and accurate representation of what combat would feel like for Batman. Actually, it has some surprising depth for an action adventure. It features and great deal of different moves and there is a lot of headroom if you really want to get good in it. But most importantly, it feels satisfying and looks cool.
I believe Rocksteady's mistake is a very different one. It is the fact that they themselves were expecting too much from the combat system. The combat challenges and to lesser extent the latter portions of the campaign expect players to treat the game like a hard-core fighting game. The combat system has depth to accommodate that strategy to some extent, but it is ultimately just not made for it and it comes apart at the seams when pushed too hard.
I wouldn't be writing so much about it if not for the irony that Rocksteady themselves have employed a solution for the problem in the very same game! You need to look no further than the Predator Challenges to see how to do explore the surplus depth of a game system in a safe, reasonable and enjoyable way. All Predator Challenges measure the time it takes for players to complete them. But there is actually NEVER a given time you need to beat. Instead, you earn the "medals" for Predator Challenges by performing some special tasks – such as eliminating an enemy in a very specific way. The time is kept only for the purpose of Leaderboards. The competitive aspect and the completionist aspect are kept almost orthogonal.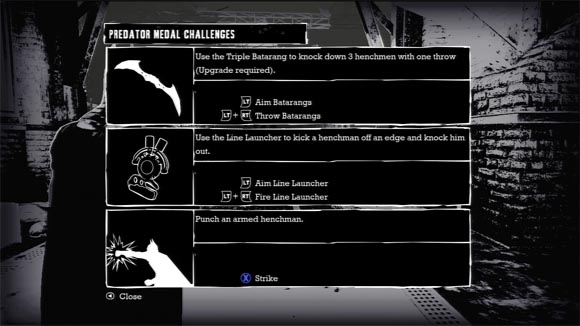 Challenges done right. Predator Challenges reward actual exploration instead of blind competition.
Why not simply treating Combat Challenges the same way? The points could have been used for Leaderboards while the medal-worthy special tasks would be to use certain moves to get rid of the enemies. In fact, this approach would have been much better at exploring the combat system. Some unique combat opportunities are actually not encouraged if you look at the bottom line only. For example, spectacular moves like throwing enemies off cliffs or bashing them against force fields yield less points than generic, repetitive ground pounds.
But in the end, simply expecting a lower score would have done the trick too. And that's perhaps a general takeaway from the game. Even if you invested a lot of work in a game mechanic, don't fall in love with it. Don't expect players to use it for things it wasn't designed to do. Under the tremendous pressure, unseeming blemishes may become breaking points.