Here is something that drives me up the walls. The Asari alien race in Mass Effect. I hate them. They are easily the most stupid, insulting and downright racist aspect of the game. Here is what I mean.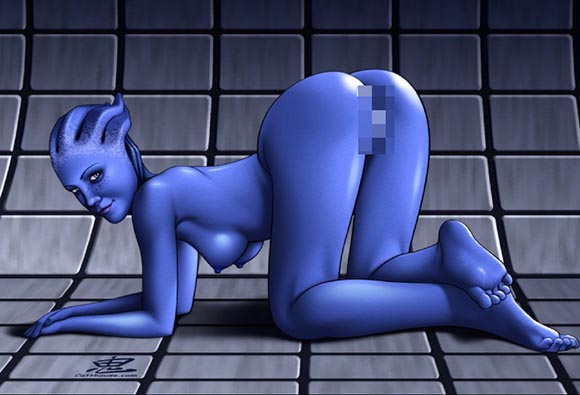 "Don't worry. That's a totally natural pose for my species to be in. Now, embrace eternity…"
So the Ansari are basically blue people. They have these fins instead of hair. Otherwise, they look pretty much like humans. That's already quite wonky. The worst part is that they are all female and you can have sex with them. But it's not the normal, feely, sticky kind of sex that involves lots of rubbing and fluids. Oh no. You have mind-sex with them. See, they are also telepathic/magic/whatever. So they reproduce by having mind sex. I presume that's a more pure, innocent, mind-alertering and transcendent way of having sex.
What really pisses me off is that the Asari serve more of a wish fulfillment device for some pretty fucked-up male sex fantasies rather than as a genuine piece of believable Sci-Fi storytelling. Something that becomes apparent when you start applying.. SCIENCE!
Let's look at the fact that they appear so close to humans. Now we Humans look the way we are because we have been shaped over millions of years by the environment we lived in. We are perfectly adapted to the Savannah of Africa. But not all animals in the Savanah look like us. So it's not only the environment that shaped us. It's also the heritage of our ancestors that we brought into this new environment. In other words it's an incredibly rare and quite specific accident. It is utterly and completely impossible for some other species to accidentally look EXACTLY the same as us – especially if they had different ancestors and lived in a different environment.
So close, yet so far. A replica of Homo Ergaster, one of our closest evolutionary ancestors. Just a tiny genetical difference can make a huge difference in fuckability.
Now this is something that Sci-Fi had to struggle a lot with. In movies and in TV series there is just so much you can do with a human actor to make them look less human. Especially Star Trek is a good example of laughably minimalistic "costumes". That's the kind of suspension of disbelief you just had to bring with in order for such a project work at all. And at least Star Trek made an effort to retcon it, even though it felt forced.
But there are no such restrictions in a computer game. You can make the aliens look whatever you want. And in fact, most of the other species in Mass Effect distinctly un-human. Mind you, most of them are still humanoid and that's pretty much how far you can get with flimsy excuses such as "convergent evolution". The Asari operate on a whole different level. They all look like sexy ladies with a wig and blue bodypaint. Gee, I wonder why?
But first, let us look at the mind sex thing. How would a species evolve a form of reproduction that would allow it to have sex with other species anyway? The advent of culture usually freezes evolution in place as survival of the fittest is no longer a factor. This means that Asari had to evolve this feature before they went to space. Which in turn means that the only way Asari could have this feature would be to have a lot of sex with animals on their home planet. Yikes! Implied Bestiality on a massive scale. I knew Bioware is very forward in depicting minorities but that may be crossing the line for me.
But luckily that doesn't really make sense either. You see, evolution is most easily understood if you look at it from the perspective of individual genes. Something that Richard Dawkins explains quite eloquently in the Selifsh Gene. Let us set the issue of Asari genes by side as they clearly don't reproduce by exchanging genetic materials. What about the other animals the Asari had sex with? Their genes woudn't get propagated by getting hooked up with the Asari. So while possibly pleasant for the animals, the mind sex would be eventually just wasted time from the perspective of the animal's genes. There would be evolutionary pressure for some kind of defense against the Asari mind sex to evolve. Animals, which are immune to Asari mind sex would be able to concentrate more on having sex with partners of their own species and thus spread more widely. Which in turn, would make the universality of Asari mind sex quite pointless. Asari, who depended on it would produce less offspring and die out.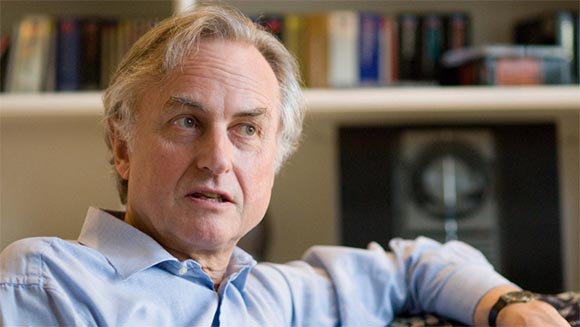 The Dawkins Dilemma – Do you take Liara, who couldn't exist according to evolution? Or do you take Ashley, who is a right-wing racist nut? Trick question! Dawkins plays FemShep and took Kaiden for sure…
Of course, one could come up with some workarounds. It could be that ALL species on the Asari home planet reproduce by mind sex. But that would make them having genes kinda pointless and it would make compatibility with non Asari races even less likely. Generally, we would be starting to drift in VERY speculative areas when the real explanations are staring us in the face. The idea of a race such as Asari is just NOT compatible with the science of evolution. That's because they actually haven't been created by evolution. They have been created by intelligent design, or rather – by not-so-intelligent design.
Let's go back to other Sci-Fi. Again, sexy ladies from space are nothing new. In fact, they were pretty common in the golden age of Anglo-American Space Opera. Even Captain Kirk had plenty of sexy time with green ladies. In order to explain that, we need to look at the roots of that specific brand of Sci-Fi. Quite simply, these stories were supposed to be just glorified space versions of the two world wars. No really. I touched upon this a bit my Space Battle article. Big empires at war, grand naval battles, politically volatile environments, colonization of the "wilderness", unapologetic racism, tension from technological gradients – all elements that dominated the first half of the 20th century. The exotic sexy ladies ready to be taken by the heroic paragon of modern civilization is an image straight from the heart of that mindset. This thinking is still embedded into the very fabric of our language. "Exotic Dancer" means "foreign dancer" literally, but implies "stripper". The same kind of image accompanied thousands of young soldiers into foreign countries where it made them may have contributed to some seriously unpleasant deeds.
The IRL Asari – American soldier dancing with a Geisha during the occupation of Japan.
So naturally, Bioware seems to have thought it would be a good way to unquestionably resurrect that old classic. After all, it fits so well into the gamer stereotypes, doesn't it? Instead of making up complicated excuses why every woman in a game is a sex object, why not create an ENTIRE RACE solely for the purpose of fulfillment of sex fantasies.
But what exactly are they selling here. The Asari are supposed to be a different species. Isn't having sex with them pretty much the equivalent of Bestiality? You see, that's where everything comes together. Asari look like humans so you don't even think of having sex with your dog when you chose that dialogue option. The function of the mind sex is not to even have you sweat the dirty details. "It's cool because I'm not even sticking my dick into it". A narrative fig leaf for the horrors that lurk beneath.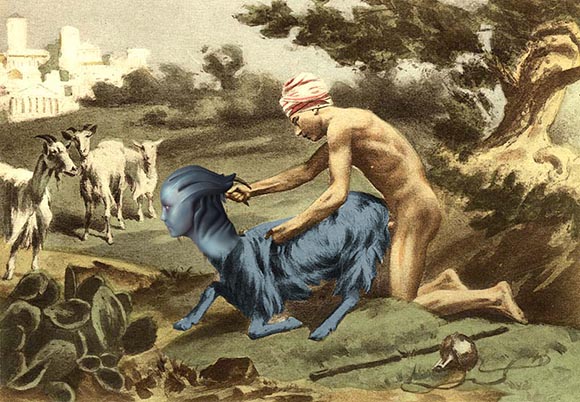 Let's face it. This is what you are really doing here.
The Asari are the embodiment of fossilized racist stereotypes and infused with the fresh blood of male-dominated gamer culture. They are a race of space hookers. And if that wasn't enough, Bioware deliberately chose to abandon all scientific plausibility to have them. In Science Fiction, a genre that was born to do the very opposite – to reveal the human condition by contrasting it with the alien. "We don't need other worlds. We Need mirrors" indeed.