Cliffski is currently working on a Sci-Fi Space Opera battle game and he recently asked about the economy and logic of epic space battles. He basically wanted to know what the logic is behind having small fighters and big capital ships because he tries to reproduce them in his game.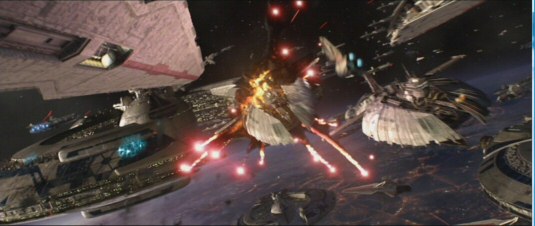 This is a dear topic for me. Some years ago, I was inspired by the Bad Astronomy website. It was a bit of a shock for me when I realized how pretty much every little detail about space Sci-Fi doesn't hold up to scientific scrutiny. I knew Sci-Fi was unrealistic but it was amazing how TERRIBLY AND UTTERLY unrealistic it is. So I sat down, ate some heavy books and now I believe I have a rudimentary understanding of Astronomy now. It has become of a hobby for me. That's why I sometimes torment you with my space geek stuff. Like I will today. If you want to know about the science and logic of epic Sci-Fi space battles, please continue…
So back on track: people immediately responded to Cliffsky theorizing about mass, speed, armor, range or energy production of different sizes of theoretical space ships to rationalize and explain epic space battles. Basically, they tried to solve the problem with (dodgy) physics and engineering. It shows perfectly what I hinted at in my Solaris post: you won't get far with just science, you need the humanities too!
Here is a different approach: Why did epic space battles appear in Sci-Fi in the first place? You see, Space Opera came about during the Second Word War. Many war veterans came back home and started writing novels about epic battles like they witnessed themselves but in a more idealistic, heroic future. The perfect example is Gene Rodenbery, who invented Star Trek. He joined the U.S. Army Air Corps in 1941, aged 20, and flew many combat B-17 Flying Fortress missions in the Pacific Theatre.
So it is no wonder that epic space battles closely resemble naval battles from the Second World war – especially those from the pacific. That's why you will often see combinations of small, fast fighter spacecraft and large, slow carrier-type spacecraft engaged in combat in close proximity to each other. Hence, if you want to replicate that epic space battle feeling, it makes sense to take a closer look at the technical specs and tactical logic of those battles, instead of trying to theorize about dilithium crystals and matter-anti-matter drives.

"Red five, coming in" – eerie, isn't it?
Finally, you might want to realize that science is of no help if you want that kind of Sci-Fi as the likeliness of space battles happening in the future is pretty much ZERO. Not a chance in hell. Seriously. Get it out of your head! Here are some things you might consider:
Space is vast. Spacecraft move very fast (more than 30 000 km/h even today already). The requirements for two spacecraft to meet each other so that the pilots can see each other with bare eyes are enormous and require careful navigation and cooperation on both sides. Dogfights won't happen.

There is no air in space so changing direction is very difficult. Even a simple dogfight maneuver like making a 90° turn requires you to decelerate to zero and accelerate to you preferred speed in the new direction – twice the energy required to get to full speed in the first place. Remember those huge tanks and external boosters on the Space Shuttle? Yeah, we are talking about twice this energy for one single 90° turn. Again, dogfights won't happen.

There is no air in space. There are almost no obstacles in space to hide behind. There is nothing that prevents you to shoot at enormous distances and hit your targets precisely. There is no such thing as "range". There is no reason for spacecraft to get up close. You could probably shoot something on the other side of the solar system. They wouldn't even know what hit them. It would take years to travel that distance with a ship using today's technology. Why bother?

This in turn, makes space battles stupid anyway as instead of fighting ships, you can even easier attack the cities and outpost on the planets themselves. You can probably even shoot from cannons installed directly on surfaces of you home planets, without the need of getting into space. Remind me please: what do you need weapons on space ships for again?
So there you have it. Space Battles? Just some silly stuff old war veterans came up with to cope with their posttraumatic stress disorder. Won't happen.