The philosopher's stone of many game enthusiasts is how to bring their significant other to enjoy games with them. I am no different in this regard and my GF had to endure multiple experiments already. But expect from the occasional freak side-effect I remain unsuccessful in enkindling in her the kind of enthusiasm for the interactive medium I experience myself.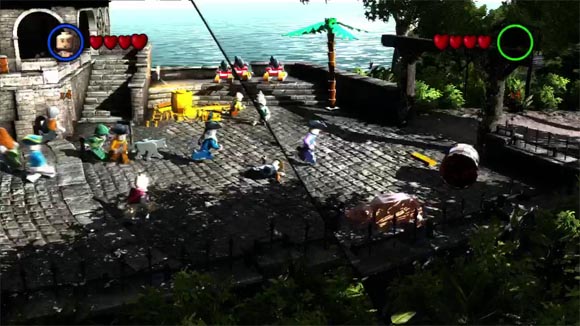 What is… I don't even… Can't we just watch the movie?
The recent attempt was LEGO Pirates of the Caribbean. The stars seemed to be perfectly aligned. She loves the series a lot. The new movie was about to come out (and she adores Penélope Cruz). LEGO games are known to be very forgiving but most importantly, they can be played cooperatively. They are divided into simple, byte-sized levels perfect for short sessions so I thought it would be easy to convince her to play for a quarter hour or so.
We started playing and it went well at first. But already after the first movie, the dream boat I was sailing on began to pick up water. It just didn't really work and we had to stop. Here are some of the reasons:
Skill Gap – The main problem is something that many people fail to consider. Co-op games work very bad if there is huge gap of skill between the partners. There is this romantic idea of a veteran helping a noob out. In reality, I found that this is actually never a fun experience. The noob won't actually learn anything because the veteran is always there to help out. The noob will never experience defeat so he can't really learn from his mistakes. On top of that, he will have a much lesser sense of success because there is always that feeling that the other guy did all the work. As for the veteran, he will just be held back by the noob. He will be constantly torn between picking up the slack for the noob or waiting for the noob to catch up. Ironically, this is something I experience on a regular basis when I play Monster Hunter with my podcast buddies. I'm often the one in the inferior gear because I haven't invested that much time in the game yet. My podcast buddies are very nice to help me out with some of my quests. But I always feel like I used a cheat code to skip a part of the game I was supposed to do by myself.

Chaos – Another issue is that games tend to get very chaotic when more players are involved. In the LEGO games the screen is already filled with lots of objects to smash and interact with. Add a dynamic split-screen that constantly changes orientation. Then add a battle sequence when a group of enemies is swarming in. Then add the ability for both players to change the appearance of their characters. Even for an experienced player it becomes very difficult to merely recognize which character you are controlling. And then you still need to figure out where to go and what to do. Single player is chaotic too, but at least you have all the time in the world to figure things out. Again, this is something I observed in other games as well. StarCraft II being another good example. It's clearly balanced for 1v1 duels where it is an intense battle of the minds. When going 2v2 and especially 3v3, the game becomes a chaotic, arbitrary troll fest.

Adaptation Issues – One thing that was driving my GF at the beginning was a genuine passion for the source material. And sure, seeing even the walk animation of Captain Jack Sparrow was just hilarious at first. But then some incongruities set in. For example, one of the most memorable action scenes was the one in the second movie where they are on the water wheel of a mill that has come loose and is rolling trough a jungle. We were both looking forward to this in the game. Sadly, we were disappointed. There is a huge blunder ruining specifically in that scene. You are supposed to throw an Axe at Jack Sparrow, who is stuck in the rim of the wheel. There is nothing really telling you that. It doesn't really make sense – you can reach him with a saber just fine. And even if you try it, the window for doing it is so small, you never even realize that you were attempting the right thing but just screwed up the timing. So what was supposed to be a smart, memorable, quirky action scene turned into a long, frustrating exercise of blindly trying everything over and over again. It culminated in looking up the solution on YouTube. The game has quite a few scenes like this. The Kraken boss from the same movie was similarly problematic for us. So slowly but steadily, our initial enthusiasm was undermined.

Source Material Issues – But perhaps that last part wasn't entirely the game's fault. Because we both realized that the movies just aren't that great after all. LEGO Star Wars provides a good counter-example. Those movies are well-known and incredibly iconic. They use very stereotypical characters and easily understandable situations. So LEGO Star Wars worked well as a humorous remix of those familiar stories. Conversely, the story of the Pirates of the Caribbean movies is a catastrophic mess. The character's motivations are hazy at best. There are multiple parties with unclear goals. Individual characters constantly switch sides. By the third movie, there are so many characters, most of the time you have not the slightest clue what is going on. In a movie, this may be bearable. You just hang in there and wait for the next scene where Jack Sparrow does something silly. But in a game where you need to actively play out all those filler scenes in-between, they can become a drag.

We gradually just stopped playing by the 3rd movie. I returned to the game alone just recently. And it is actually much more enjoyable for me alone. With the co-op issues out of the way, the other problems turned out to be not that bad because I don't care about the series that much. I'm familiar with the structure of the LEGO games and they represent a very safe, comfortable type of gaming for me. It just turns out that they don't translate too well into co-op with such asymmetric partners.

The latter two issues have to do with the Pirates of the Carribean series. They were pivotal for my GF's motivation but could have gone potentially differently with other material. I'm more worried about the first two issues. They may suggest that we will never be able to play together. The best way to introduce my GF into gaming may be by not to getting involved at all. Which kinda defeats the purpose.