Welcome to the 3rd and last part (part 1 here and part 2 here) of the Global Game Jam Cologne games round up. These are the final 3 titles and I have been saving up some real gems:
Authors: Dominik Lazarek, Carsten Ruhr, Julia Zaadstra
Coherence
Coherence is at first sight a 2D jump & run. However, you will quickly realize that there is more to it. The game is divided into two worlds, one attached upside-down to the other. Your character can switch between the two. Interacting with one world affects the other and vice versa. You can also carry objects from one world to the other. The goal is to figure out how the two worlds are connected and to establish a balance. The game comes in a beautiful monochrome look and some lovely smooth animations. Definitely something to check out!
Authors: Kelvin Autenrieth, Stephan Schlößer, Thomas Trocha, Patrick Noppel
Cure
Cure stand for me as the best ways to approach a Global Game Jam project. A team of 4 (!!) decided to create a very simple twin-stick shooter. They had the game running in hours and spent the rest of the time creating new levels, enemies, weapons and focusing on the ballance. The result is perhaps the most complete game from the entire Global Game Jam in Cologne. The shooter has an Inner Space theme. You shoot at bacteria inside the bloodstream of a human. There is even a simple ecosystem simulation as the bacteria multiply! I really do hope that the guys manage to polish this one up to a real release. It looks almost done to me.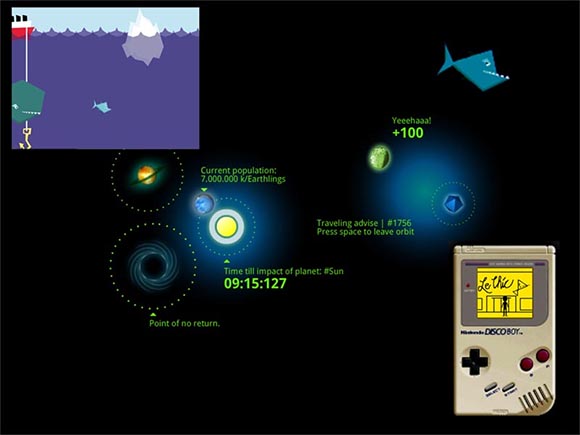 Author: Peter Bickhofe, Markus Hettlich
Epic Extinction
Epic Extinction is a very interesting entry. First of all, it's a nice, polished Orbital / Osmos kind of game. The sun has exploded and you steer the Earth trough space in search for a new sun. You need to hurry up since the population is dying. The cool thing is that Peter Bickhofe and Merkus Hettich – the developers of Epic Extinction convinced the developers of The Great Tuna Escape and H.I.V. Extinction 1981 to merge their games into a big compilation with a common, crazy narrative. So by playing Epic Extinction you can play the other two as well. That's what you get from sitting at one table. It's a wonderful idea that embodies the cooperative spirit of the Global Game Jam!
So that's it! I hope you take a look at the games, they are certainly worth it. And if you live in or near Cologne save the date for the next Global Game Jam exactly in one year. We were very happy with the way the event turned out and we will do our best to repeat it in 2012!