Writing about the all problems I encounter has an interesting therapeutic side-effect. It makes me realize how much they bother me and encourages me to do something about them. I recently wrote about the problems I had with my mouse. The many comments I received from you inspired me to dig deeper. After some research I stumbled across the Steelseries XAI mouse. It's an expensive piece of hardware but I decided to return the Intellimouse Explorer 3.0 and went for the XAI.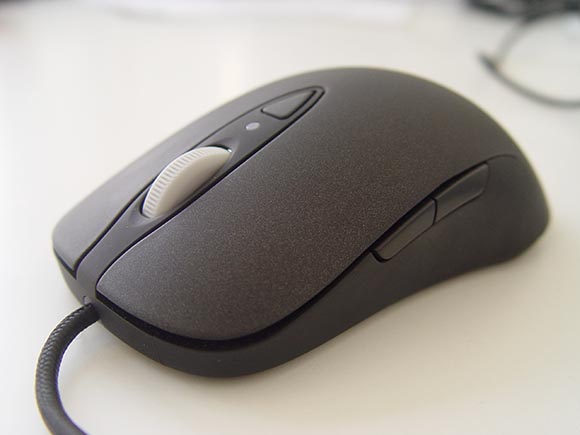 Aaaaah, pure performace without any bells and whistles.
And BOY was that a good decision. It's simple, it works perfectly and it feels good. The XAI comes with a huge resolution margin. It goes up to 5000cpi but after some experimentation I figured my sweet spot is around 1300cpi. Almost 3 times the resolution of the Intellimouse. Now there's your problem.
I was worried about the material at first. The photos don't really convey the nature of the material very well and I was afraid of another rubber-layer disaster. The actual material is odd indeed. It's not rubbery, it feels more dry and silky. But it seems like it's just the material property, so I don't think there is a layer involved that will rub off. However I can imagine that certain spots will get more shiny after a while. I will keep you posted. So far, it feels so nice, I'm actually looking forward to using it.
The shape is nothing special but sometimes, doing nothing means doing nothing wrong. It's a slightly larger mouse, so it fits well into my huge hands. The buttons are all on the right places. It glides a bit better than the mice I'm used to. The scroll wheel scrolls in distinct ticks with significant resistance in-between – an important feature for 3D modeling. I'm only concerned that the mouse wheel has some tiny grooves on it's surface. They seem like a perfect place for dirt to gather.
But nevermind that because there is a sugar coating. The cable is covered with a shoelace-like textile (see photo). It's a solution I saw once on Sony headphones. I wonder why it isn't more popular. It's an effective way to prevent the cable from tangling up and it feels very nice.
The button behind the mouse wheel switches between two different sensitivity settings. The nearby LED indicates which setting is on. Using the software you can customize the sensitivity of both setting at will.
But if that's not enough the mouse is able to store 5 different profiles. You can set the profiles using the software but you can also edit them using the mouse itself. You see, there is a small LCD display at the bottom (!!) of the mouse. Holding the sensitivity button opens a menu on that LCD display. You can navigate through that menu using the mouse wheel. It allows you to select and edit each profile. I could live without the profile thing but the two sensitivity settings will certainly come in handy.
And of course, I love the look. No LED light shows, no sci-fi camo textures, no crazy ergonomic sculptures – just a simple black mouse. It's an excellent piece of hardware and I love it. It is expensive and I'm still not sure how it holds up in the long term. But just for now my search for a new mouse is over. And hey look, it even works with the iPad Pro!
This changes EVERYTHING!