Judging by my recent posts on Mass Effect one might come to the conclusion I was a Fallout 3 fan. Both games are often compared when discussing modern western RPGs. I think their relationship is quite complimentary. The one has strengths where the other has weaknesses. Nevertheless, I indeed think that Fallout 3 offers a more complete, insightful and better crafted experience.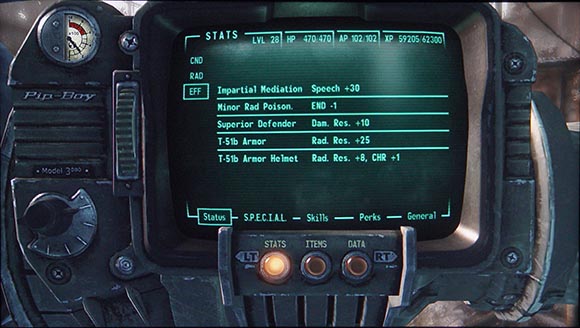 -1 Endurance due to minor radiation poisoning. No word about the adverse effects of not eating or sleeping for weeks.
But that doesn't mean it is without flaws. This time around I would address a particular, not quite obvious problem. It is a hereditary disorder – a feature that Fallout 3 inherited from previous RPGs but one that turns out to have devastating effects in the specific environment of Fallout 3. I'm speaking of the fact that like in many RPGs, the mere survival of your character in the wilderness is taken for granted.
Everybody who ever found themselves giving up even the smallest bit of everyday comfort – by going camping for example – will acknowledge that mere survival is not a trivial matter. The human biology has a daunting list of requirements that need to be tended to every day. Doing so in the middle of – say – a forest is already quite a challenge. It may be even almost impossible in more exotic environments.
You need nourishment, including both: food AND water. And this is especially true if you decide to engage in physical activities. You need rest which includes some form shelter from the elements. And things get especially nasty if you happen to require medical treatment. Wounds and bruises heal very slowly (if at all) if they are not cleaned properly and if you don't take some extra rest. They also severely limit your physical performance. A seemingly minor wound like a broken bone could even mean death if you found yourself alone and far from a safe haven. This would be not so much because of the actual wound but because of the impairment caused by said wound.
Look, people have written books about it. Isn't there some material for gameplay?
But RPGs often chose to blissfully ignore that aspect of human existence. You characters will hack and slash away at enemies, get hit by all sorts of blunt and sharp weaponry, scorched by all sorts of thermal, electrical, or even radioactive energies from natural or super-natural origins. No matter how badly hurt, their ability to cross great stretches of land is never hampered. All wounds and bodily needs can be tended to by simply chugging down yet another flask of "magical potion". In some cases you may chose to rest one night at an inn to restore yourself fully just overnight.
Things got even worse recently, when games started to seamlessly simulate the diurnal cycle, exposing your character's super-human ability to stay awake and active for weeks at a time without meals (and consequently without going to the toilet).
Also troublesome is how game designers tend to throw all the bodily functions into one big category of "Health Points". Wounds are represented by subtracting from a budget of said health points. But players can restore health points by tending to other, quite unrelated bodily needs such as eating something. If only real medical treatment was that easy. Cancer? Have a sandwich.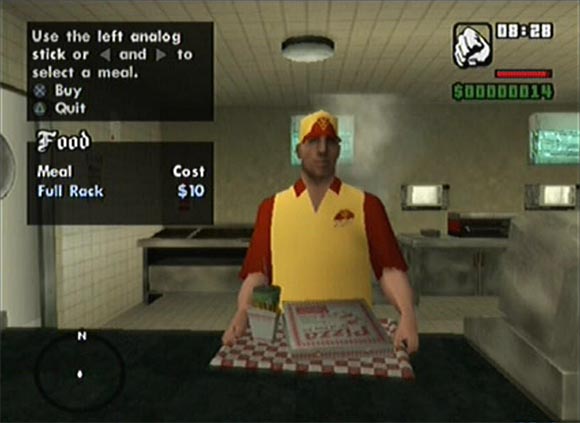 Food in GTA: San Andreas doesn't provide nourishment but does make you fat. On the other hand, it heals wounds and you don't get hungry anyway.
And yet, for most simple action games this is quite acceptable. When playing an action shooter like Call of Duty, you don't want to be held back by realistic wounds. Already the first hit would be probably fatal or at least disqualify you for further combat. That's not fun. Also, in some RPGs – like Mass Effect – it's quite ok to assume that talking care of food, shelter and medical support happens automatically, off-screen.
But Fallout 3 is different. Fallout 3 takes place in a post-apocalyptic world where survival is supposed to be harsh. In fact, the very nature of that world is defined by the struggle of it's inhabitants to survive against the odds. Introducing the same survival-by-default undermines that setting.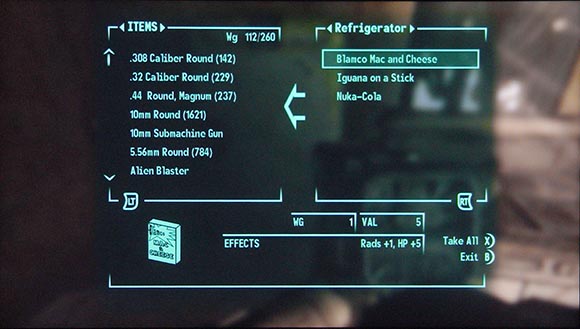 Found some 200 year old snacks and a iguana-on-a-stick. I think I'll stick to Stimpacks for now.
So for example, in Fallout 3 there is a lot of quite yucky food you can scavenge from abandoned houses. Dirty restaurants sell stuff like the infamous iguana-on-a-stick. Going trough the menu really puts you in a post-apocalyptic mood. You can drink water from toilets and other disgusting sources which are reminiscent of the toilet scene from Trainspotting. Eating the food or drinking the water will even give you a couple of RADs worth of radiation. Yet, you can play through the entire game without eating or drinking even one bit of that stuff. You can pretty much survive on Stimpacks, syringes with magic potion inside. And you really need them only for combat-inflicted wounds because your character will never grow hungry or thirsty anyway. There are also hospitals and makeshift clinics but they can be avoided as well. The treatment they offer can be just as well provided by the Stimpacks. Stimpacks can even restore crippled limbs. There is almost nothing they can't do. The only thing they don't help with is with radiation. But don't worry, there is Rad Away a different drug that simply heals all damage done by exposure to radiation. Again, radiation in real world is a quite different and much, much more nasty beast.
All drugs are ubiquitously available and while they are more expensive than food, you can afford buying them in large quantities pretty early in the game. A playthrough without even one bite of post-apocalyptic food or one visit to the horror doc is entirely plausible for the even most casual player. The only cases when you do it is maybe out of curiosity.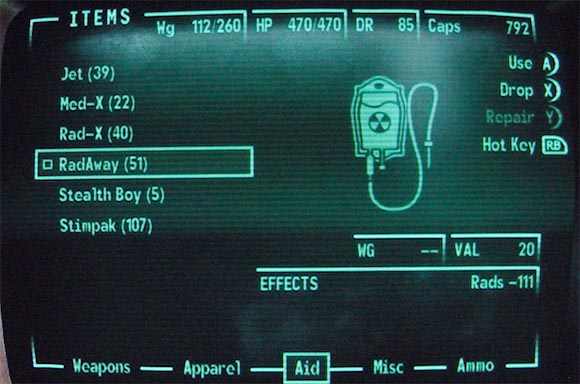 Typical late-game inventory. Around 100 Stimpacks and 50 Rad Aways. At some point you give up buying them because it seems like you won't use them up anyway… but yeah, water is super-important for survival and stuff. Whatever.
Another funny thing is how you can fully restore your health by simply going to bed. You can even specify exactly how long you want to sleep. But even 1 hour of sleep is already enough to bring your health points back to maximum. There are no drawbacks from going on for weeks without sleeping and even when you do go to sleep, there is hardly any incentive to have a healthy 6-8 hours of it. Yes, there is a "well rested" status you can obtain by sleeping longer but it wears off quickly, often before you even arrive at a scene where action happens. And it isn't that big of a deal anyway.
You could dismiss all of this as a bunch of little unrealistic flaws that slight strain your suspension of disbelief, if it wasn't for one fatal mistake of the game's story writers. As it happens, they decided to hinge the entire main storyline on the restoration of Project Purity, a facility that would provide people with fresh water. Fresh water is certainly a big deal in a typical post apocalyptic scenario. However, as I just pointed out, it's completely and utterly useless in Fallout 3. Fresh water is NEVER something you will need as a player and you will hardly ever even meet NPCs who seem like they would benefit from it (apart from ONE annoying beggar who doesn't seem to get enough of it). The game's survival-by-default mechanics successfully undermine even the storyline – you just don't give a shit about your Project Purtiy. The way the game is set up, the story would work much better if the facility you are to restore would produce Stimpacks instead of water.
Too bad because there are great games that include some excellent survival mechanics. I have written already quite a few articles on the Lost in Blue series for example. Something that is even closer to Fallout 3 is the amazing old-school game Burntime, which also takes place in a post-apocalyptic scenario. Burntime is one of the most overlooked hidden gems of the VGA-era of PC gaming. Careful management of your supplies of water and food is one of the core mechanics there. It makes up for a distressing yet extremely engaging gameplay that could very well work in a game like Fallout 3.
In the hidden gem Burntime, careful management of resources like water and disgusting food is key to success.
And Fallout 3 even has all the puzzle pieces in place. There are enough alternatives to Stimpacks, your limbs can become crippled, you can get various levels of radiation poisoning. All of those things are just spoiled by having drugs as an efficient and convenient solution. It's really a shame to see that great potential go to waste by such simple yet fundamental mistake. Without it, Fallout 3 could have been a much more realistic and narratively engaging game.