So no update yesterday. I blame the Majewski Afternoon Time-Barrier Principle. Let me explain. You may – perhaps even without knowing – be familiar with the Novikov self-consistency principle. It's a theoretical model of how time travel could be possible without creating paradoxes. According to this principle, all time travels have already happened. So if you go back in time and try to change anything, something unexpected will happen to prevent you from making the change. As if the universe defends it's own consistency. A good example of said principle in action is shown in the movie 12 Monkeys.
The Majewski Afternoon Time-Barrier Principle states that for every day you have at your disposal to work on a creative project, you physically won't be able to begin before 5PM. The universe will prevent you will all it's might to stop you. Perhaps you will have to do some overdue groceries, clean the flat or you will oversleep or even receive a really distracting Amazon shipment. The Majewski Afternoon Time-Barrier Principle is the reason why I always have been working at night. But that workaround stops working so well when you get a dayjob.
Back to serious. I have been setting up the payment system for the TRAUMA website. It is finally coming together. A small problem caused some headaches. Last weekend I have been trying to generate a direct payment by tapping into the instant payment button HTML form using PHP. This is a bit out of the ordinary. Usually, one would use the PayPal PHP SDK. But I don't have the nerve to dive into it. It seems to be made for people who like to toy around with shopping baskets. I just want a plain direct payment with perhaps a bit of control.
I finally figured out that it's basically not possible. The workaround everybody uses is to generate an HTML form with PHP and send it with Java Script. Duh! Not very elegant either. But it will have to do for now. I will post a detailed walktrough when I'm finished.
During further tests, I stumbled across an intriguing idea. You see, every time I test my system, I have to make an actual payment of 1 EUR. This is how my account looks like.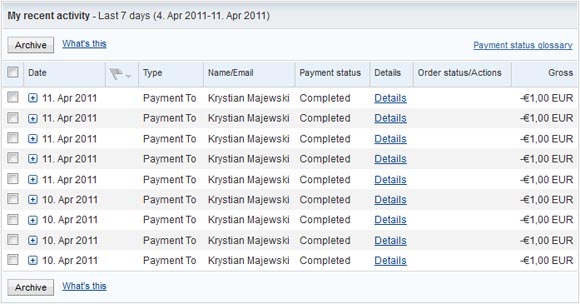 And you thought waiting for code to compile was nasty?
On the one hand, it makes bugs super-annoying because you actually have to pay for them with real money. The process is also a pain to debug as the code you write isn't executed by yourself. So you can't really trace out error messages and whatnot. On the other hand, I have never written so clean code in PHP. In 9 tries from 0 to first payment went trough flawlessly – that's certainly a personal best. Perhaps I should adapt this system for other areas as well.
Of course, I'm making the payments to myself. So I will get some of that money back. But not all of it. Especially at this low ammounts, PayPal keeps a hefty percentage. It's really quite sad. I would have loved to experiment with Micropayments.
So all in all, I'm on track. Will continue working on the payment system and release it for other Indies to adapt. Most of it should be done next weekend.