I dream of a world where screen real estate is available in enormous quantities. Imagine the ENTIRE WALL of your room to be an interactive screen. Imagine having all you documents and photos just there on your huge desktop instead represented as tiny icons and filed away in a hierarchy of tiny folders.
I have been working with a twin-monitor setup for quite some time. I had to abandon that setup at some point due to the advanced age of the CRT monitor and a malfunction of the VGA port of my old Notebook. But now I'm back and it is a blessing!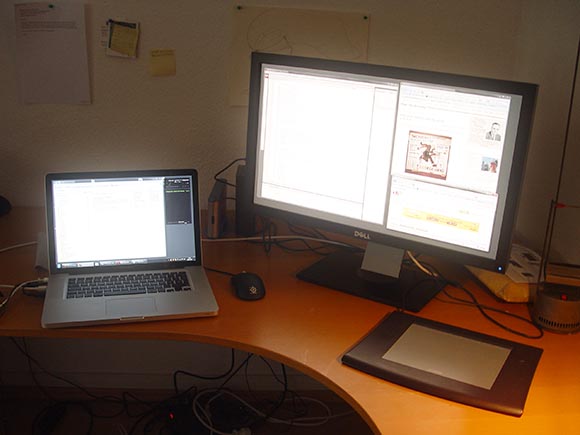 Funny, I swear it feels bigger in real-life… [insert "that's what SHE said" at will].
I recently got a Dell U2711. It is a 27″ monitor with the breathtaking resolution of 2560 x 1440 pixels. The experience is profound. Sitting in front of it, the screen fills a big portion of my field of view. The resolution is high enough for me not to be able to recognize individual pixels at a reasonable distance. The monitor is supposed to have some crazy color magic abilities. I took such claims with a grain of salt until I saw a large red surface on that screen. The color red is rendered so vibrantly it almost hurts. I've spent the first evening just watching Full HD movie trailers. It's way more impressive than my TV.
The increase in screen real estate is remarkable. The screen is large enough to easily contain around 3 applications at the same time. Pretty much every activity is enhanced. Coding is easier as I can see a much larger portion of the code at the same time. Video editing doesn't require the constant reconfiguration of the user interface. Just yesterday exchanged assets between Photoshop and Flash with both applications open and working at a reasonable size side by side. How did I ever managed without it?
It's so big, it's like having 4 at the same time… [insert "that's what SHE said" at will].
There are some minor downsides. Many programs are not really prepared for a multi-monitor setup or for such high resolutions. Watching videos on the web and switching to full-screen mode creates all sorts of weird problems. Games can't handle the resolution and often full-screen on the wrong monitor. The colors are vibrant but feel darker than the MacBook Pro screen. It takes getting used to. And it wasn't exactly cheap either.
On the other hand, coming back to work where I have to rely on the notebook screen only, I feel like looking through a keyhole. There is no going way back anymore.
Here is a funny problem I have now. I can't seem to find images in 2560 x 1440 to use as a desktop background. The only image I found so far was this ultra hi-rez image of the surface of the moon. After setting this as a background I found myself just staring at it for a couple of minutes in awe. If you have any other suggestions, please do tell!