Some very dramatic changes happened in the last few days. First, I finally got a new workstation. But then it's a MacBook. So I Bootcamp'ed it and put Windows 7 on it. And then I decided to throw away most of the crap on my desk, especially my old CRT Monitor. Workspace feels very comfy now.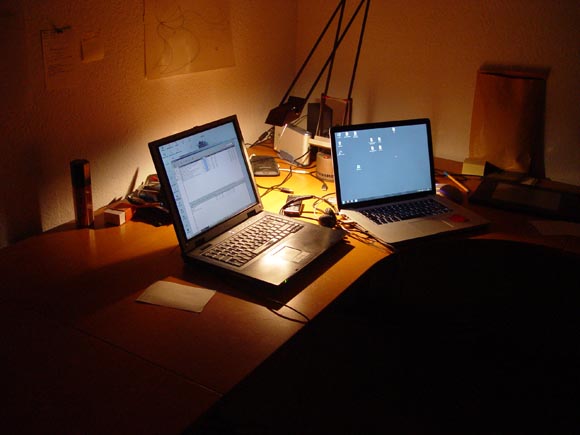 There are a lot of new impressions to take in. New hardware, new software. Here are some bullet-points of some of the things I notced. First, the bad:
Lower Resolution: WTF? This MacBook has actually lower resolution than my 5 years old ASUS? I'm going to need that huge external display soon.
Not as much space as I thought: I got the 500GB hard drive. After Bootcamp 250GB left. After installing all my stuff 90GB. This is melting away rather quickly.
I hate Apple for the display adapters: Seriously, shame on you, Apple. My girlfriend has the newest MacBook, two display port converters and none of the actually work on my MacBook Pro. What's so hard about just putting a standard VGA Port on that thing? And why wasn't at least the adapter included? I have now an expensive piece of hardware that theoretically could run projectors. I just don't have the physical means to attach it to them.
Two USB Ports: Wow. Seriously? I could understand that on a MacBook but on a MacBook Pro? Wow. Let's see, I use a mouse, a tablet and… well there you go. Goodbye external hard drives, USB sticks, printer… Can anyone suggest a spiffy portable USB hub?
The keyboard is all rong: It's not that bad as I thought but it's inconvenient. I'm still looking on the workaround to have the PrintScreen key. On the other hand, I found the key combinations that unlock the forbidden powers of del, pos1, end, page up and page down. So I'm mostly set. If only @ was a little less difficult to produce.
64bit is pain: I know that there is a super-good reason for this whole 64bit thing. The user-side experience is that half of the stuff doesn't work properly. For example the Cisco VPN client required to have proper internet back at where I work. Who can I blame it for now?
But wait, not all is lost. There are lots of good things about this new change.
This is fast on an entirely new level: Ok, maybe not that fast but at least After Effects in HD works quite fine now. The improvement is profound. Further work on TRAUMA should go much easier now. This alone was worth it actually.
Surprisingly trouble-free: Surprisingly, the setup and my move from one system to the next was done in less than a workday. There were also hardly any hardware configuration issues. Any little kinks I could solve pretty quickly. I guess this is due to both – the whole Apple thing (Hardware and Software) and Windows 7. I love how all the drivers come from one source (Apple) in one package (Bootcamp).
Epic Win 7: Well, again maybe not epic but good. It is very different from XP but it looks like I can get used to it. A couple of standard dialogs already surprised me with cool UI details. But I will keep a watchful eye on this one. Especially as Win 7 still takes considerably longer to boot up than Mac OS X.
I will survive: One of the reasons why I chose a Mac was simply because they are quite sturdy. One of the problems I had with my old Asus was that it started to fall apart structurally. The display hinges broke pretty much by themselves and needed constant touch-up. The plastic got digested by the venom my tentacles produce. From what I can tell the Mac is better suited for the harsh environment I call work. Using metal as material is already quite promising. The fact that many people own EXACTLY THIS model and can help when things go kaput is a big plus too. I'm expecting a lot here.

So that's it. Work on TRAUMA continues now. I did already a couple of things for it in my new Workspace and it is much easier now. I know there are some people out there curious about how this Mac/Windows experiment will turn out. I will keep you updated