After another few weeks of bug fixes, added features, redesigns, major balancing tweaks and more (community reported) bug fixes – my first (one-handed) indie game is completed.
The game is intended to be playable with only little time at hands (i.e. 5-10 minutes a day are more than enough) and still features favorite game mechanics: prepare & construct, producer & consumer cycle, shopping, collecting, leveling up, competitive comparison.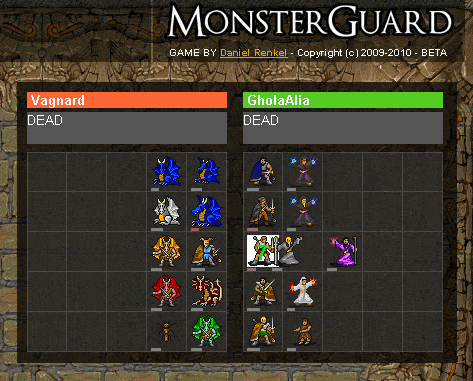 The basic game concept is to have a simple activity that is fun to repeat and score-able/measurable "into" two scores: quality and quantity. This should bring hardcore and casual gamers together without hurting the (smart, qualitatively well doing) casuals too much with each hardcore player being clearly better by playing more often (quantity).
In mogu (MonsterGuard) it's setting up small armies that automatically fight. The setup is basically pretty easy (although my presentation doesn't show this at first glance) as you have some hints helping you and some game design concepts working to assure that the detail-tweaker is gaining less strength by the details than the casual can already gain by the overall understanding.
My current major issue with the game: i expected it to be an underdog, but to have at least a few hundreds of players, but the alpha never had much more than 30 to 40 active players. and this clearly hurts the game a lot, as the game-play was especially designed for having many players:
Armies that have been setup are then matched together with an algorithm. The matching is intended to be as fair as possible, and there is quite some experience & cleverness going on to do this. And here comes the current problem: with (way) too few players there is either nearly no fair matching going on and thus players would have to wait for ages OR (as it currently is) the matching is stripped down to take only basic things into account and thus its clearly not as fair as it could be. But at least this way its possible to play in a timely manner.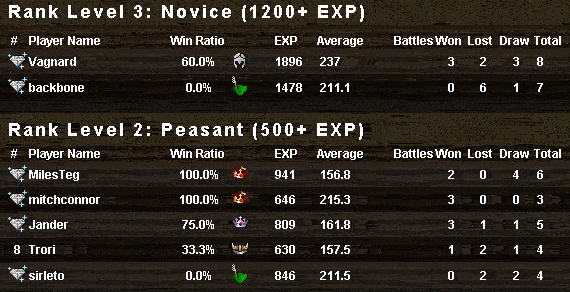 Back to – what I believe – is clever game-design for a browser game: quality and quantity scores. When a players army (actually its called a Guard, hence MonsterGuard) wins or loses, the players win-ratio changes (i.e. 70% in terms of "won two third of his fights") and thus you are ranked in the highscore. Additionally you gain experience points and level up (your units do, of course – but also your player account gains higher ranks). And the main highscore listings of the game show all players sorted by ranks and win ratio. That means that across ranks the best players (independent of quantity) are featured for their quality (understanding the game, having a fealing for it). And also in the list of the highest ranked (those with most exp, gained by quantity of playing) those with higher quality (in the same rank) are listed higher.
Further facts:
-i expected it to take two months till reaching the current release point / quality, but it took four and a half
-php is both a nice language to be quick and productive AND a pain in the ass as it lets you produce code-bugs you would never dream about … and takes to large amounts of time to find them
-JavaScript is a quite nice language, modern browsers support a clear and clever set of way to manipulate websites. i do not believe jobs b***s*** that flash is dead, but i can clearly see chances for multimedia via HTML5 without the total need for flash.
-rather intense JavaScript code is a pain in the ass on older browsers. without JavaScript being compiled its to slow to do anything more often than 3-5 times per second.
-its 2010 and its still a pain in the ass to layout complex content for multiple browsers. it may be possible for pro-web-designers doing cross-browser complex pages (browser games) for years, for me it took more time already than many important game features. so the result is that the game is still only optimized for firefox, most other browsers WORK okay (but with sometimes ugly layout issues), but some browsers make the game nearly unplayable (layout wise speaking).
If you want to help me out, try the game and if you like it bring it to your friends attention. Tweat, blog, criticize it for it to gain a little bit publicity.
Play it here: http://mogu.gameprogramming.de/
(PS: to understand how the game basically works, take a look at my low-tech how-to video on youtube: http://www.youtube.com/watch?v=dsZ7wr4xOBg)