I recently finished Torchlight. I made multiple attempts getting into in the past. Somehow, it never really griped me, even though I enjoyed Diablo a great deal. The other day, all the Diablo 3 talk left me craving for some good old comfort gaming. It was the perfect storm for me to get into Torchlight.
I blame my reluctance to the beginning section of the game. For example, Torchlight has a quite confusing village layout. Whose idea was to let you enter the village right next to the most obscure vendors? The first person you talk to offers the service of combining items. The next guy offers you item enchantments. And none of this actually works before you enter the dungeon. Why even having those people around then? All I want to to get some healing items and basic gear
The actual entrance to the Torchlight mine, the main dungeon, is quite confusing too. You just walk left through some murky geometry and suddenly you are in it. It's just nowhere near as iconic and poignant as the entrance to the old church of Tristram.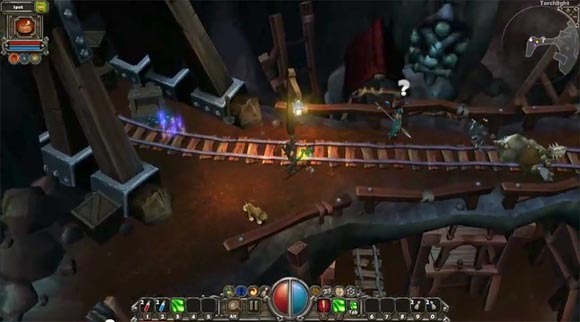 Which way to the eternal evil? The entrance to the Ember Mine is pretty much illegible (it's on the left).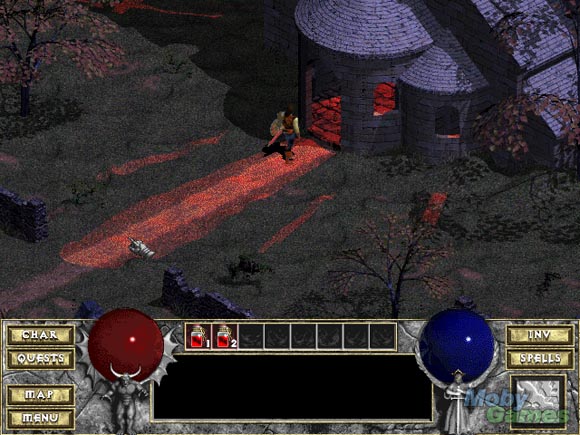 Clear layout. Foreboding lighting. This is how you start an adventure.
Things are made even worse by the confusing introduction to the story. At the entrance, you right into a battle between some dudes and some monsters. You have no idea what is going on and which side you are on. Eventually you muddle trough and you are rewarded with a conversation between two of the characters. Something about Syl, Brink, Master Alric, Monsters… One of them runs away. Who are these people and why should I care?
Torchlight is just uninviting at first. The beginning is a major letdown that prevented me from getting into the game numerous times. And it has a lasting effect, too. So later, when the plot twist and betrayals occur, you don't give a rat's shit anymore. But luckily at that point, you have all the loot and dungeon crawling to keep you interested. Still, it sells the effort put into the charming cartoony steam-punk world way too short. And that's a shame because there is a lot to like once you get over that initial hurdle.