It's super-hot and there is not much new. Let me dwell a post longer on the topic of space.
In Star Trek, when the Enterprise encounters a mystery, it's usually some really freaky, active phenomenon. I don't want to even count the many times they found "a lightning storm in space". It actually so frequent, it shouldn't be a mystery anymore. The real Solar System is full of mysteries as well, but they appear more subtle. However because they are real, they are so much more exciting. So here is one.
When I saw the images yesterday I immediately noticed the weird grooves on Lutetia's surface. Why is this weird? Because I saw them before on Phobos, one of the moons of Mars.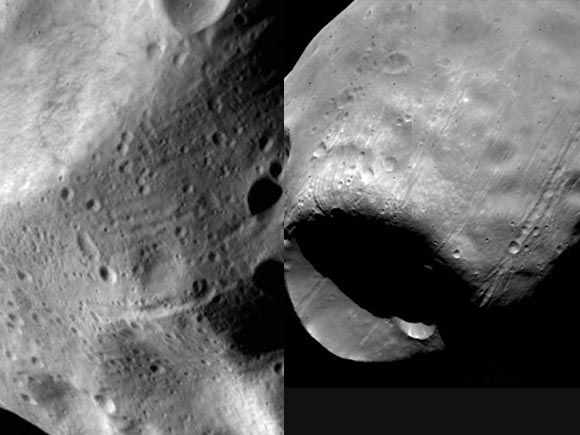 Lutetia yesterday (left) and Phobos in 1978 (right)
But the thing is that Phobos, although it looks similar, is actually a very different object. It is much smaller and made of entirely different material. Yet both seem to have very similar surface features which are difficult to explain. Especially if you look at the grooves on Phobos. They seem to even go around the rim of the big crater. This means this can't be a very oblige impact for example. There must be some weird thing going on.
A very rough estimate of the size of Lutetia (left) compared to Phobos (right)
But we only saw that phenomenon on Phobos until yesterday so it was safe to assume a very rare, freakish accident happened there. However, the images of Lutetia change everything. Here is a very different object, in a different region of space made of different material. Yet it seems to have a similar, unexplained pattern on it's surface.
The hypothesis for the streaks on Phobos so far was that the have been excavated by material ejected into space by impacts on the surface of Mars. So basically a cloud of tiny pieces of Mars got into the orbit of Phobos and the moon flew through them.
But if this is true, what kind of clouds left the marks on Lutetia? Or maybe there is a completely different explanation for both patterns? Like, maybe it was a space monster or the Klingons! I'm looking forward to see what kind of conclusion the Rosetta team comes up with! (Spoiler: probably not Klingons)
Finally, if from all this talk on Lutetia and moons you are wondering how bis Lutetia is compared to our very own Moon, I got you covered (again, super-unscientific rough mockup):
Our Moon (left) compared to Lutetia (right). Yeah, Lutetia may appear small but keep in mind that the Moon is a very big moon for Solar System standards.