Having some experience with GamesCom I did the smart thing and checked out most of the stuff I wanted to see at the business day already. Here are some first impressions one of the most important topics this year: Kinect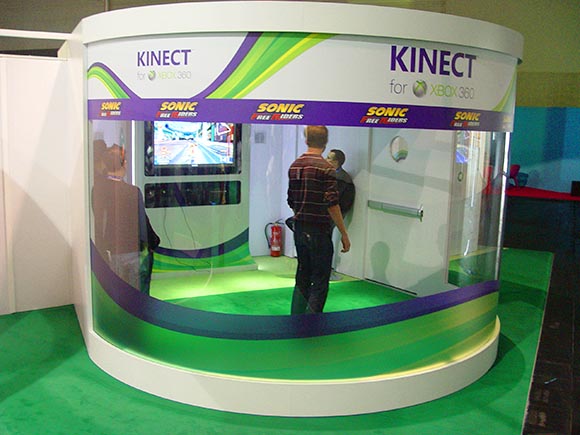 Kinect – Weird cylindric Aquarium cell sold separately.
I tried out Dance Central. We were standing in line and there were several booths with different games. Weird enough, nobody wanted to see Dance Central. I think it's because of the fact that other visitors would be able to watch you make a fool of yourself. I heard that it was good so I skipped the line and went right in with a buddy. We were introduced to the game by a very nice lady from Harmonix. I loved it. Kinect is amazingly flawless at recognizing people and gestures. There was small preview in the upper right corner of the screen. It did a great job at recognizing our silhouettes and keeping us apart. Believe me, we were testing the limits. Menu navigation works also surprisingly well. In Microsoft demos I often saw that to confirm an item, you would need hold the cursor in place for a couple of seconds. That didn't look right for me. In Dance Central, you confirm by swiping you arm sideways. It's intuitive and quite satisfying.
The game is exactly what you probably already saw. But having the full-body experience is exhilarating. It feels very good to perform a certain move in rhythm to the music and having the game recognize it and award you for that. The dance routines are simple yet stylish. The song selection is broad and ought to have a good song for pretty much everybody.
I had only one problem. You see a character on the screen performing the moves so you know what to do. This character is turned towards you. He is performing the moves as if the screen was a mirror. If he raises his right hand, you are supposed to raise your left hand. At some point in my life, I made a habit of NOT seeing people I stand in front of as mirror images. I tend to to the appropriate transformation in my head. So when I tell you you have a drop of jelly on your cheek and touch my left cheek, I mean your left cheek and not your right cheek. This habit made a problem for me in Dance Central. I was doing the moves in the opposite direction. It was hard for me to get into the rhythm when I lost it. But I'm sure this is something I will get into at some point. Maybe there is even a setting.
Generally, the game differs from other music games a little bit as it is not really possible to just jump in and wing it. You need to learn the moves before you perform. Otherwise you will embarrass yourself a little bit. The game even has a training mode to do so. On the other hand, there is cool music playing and in a party of friends with alcohol involved it might turn out not being that big of a deal after all.
There are dancing games out there already. They pale in comparison to Dance Central. We played the Michael Jackson experience shortly afterwards. It's a Wii game pretty much like Just Dance. Compared to Dance Central it felt like a very bad joke.
Let me be clear on this: this IS the Guitar Hero of dancing games. I remember paying roughly the same for the original Guitar Hero as Kinect is supposed to cost so there we go!
So what if you aren't really sure if you want a dancing game? Is Kinect something for the hardcore crowd? I have no clue. Microsoft hasn't shown anything hardcore yet. For me, Dance Central works so great that it justifies to get the new system. But I can totally see that some people may not be interested. The solution for them is simple: don't buy it! Wait out until they bring out a game that suits you. It might turn out to be a one-hit-wonder after all. It's a very cool technology. Dance Central is a very cool system seller. But if that doesn't sound interesting to you already, don't feel obliged to go for it.
I'm quite interested where Microsoft is going with this one. It seems like they delivered the technology they promised. Color me impressed.