Recently I've found a so-called invader fractal on the notorious levitated Website. It has been also posted on complexification.net: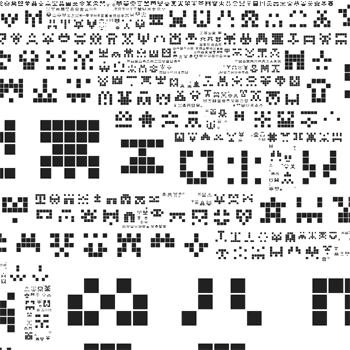 I find the Idea astonishingly simple: you can randomly generate Space Invaders-like sprites by randomizing a two-color bitmap and mirroring it so it becomes symetrical. For a 5×5 pixel invader, there are 32,768 unique Permutations. Well, I woudn't call that "fractal". The fractal Idea comes in when you start filling a surface with it but that isn't the point. Just with that random invader generator, I have the following idea for a game:
Imagine a combination of Space Invaders and Pokémon. You play Space Invaders but the Invaders are being randomly generated. As soon as an unknown Invader appears, you can choose to "adopt" it. Which means you register this type of Invader as "yours". You can then proceed to care about it like a virtual pet. You can give it a name and a description. You can see statistics about it – how many players this the Invader killed and how many times it was killed. By playing the Space Invaders game, you can collect "evolution points" you can then spend to change characteristics of your Invader. Change the movement patterns, color, name, the number of points it is worth in the game. You might want the Invader to drop a goodie if it is killed. So you can choose if you want it to be a helpful invader or a deadly, invincible boss invader. You could even hook it up to some Web 2.0 APIs. How cool would it be if you invader would twitter you every time it killed a player.
And of course, instead searching for a yet unadopted Invader by playing the game you could also just BUY the Invader on the game's website for 1$ or something. This would give you the possibility to choose the exact appearance of the invader (if this particular sprite is not taken yet). You could also simply buy some evolution points instead of grinding the game for them. You could also buy some accessories with your very own invader on then: t-shirts, coffe mugs, underwear, cookies, etc. In fact, there are lots of invader-based products you could come up with. Caring for and managing the invaders would become this a whole meta-game distinct from the shooter itself.
What do you think?