I thought I write something more straight-forward today. Recently, I started to watch some Star Trek: Deep Space Nine. I grew up with The Next Generation and I really liked that series. I watched Voyager and Enterprise and they were ok, I just found they lacked that something special I loved about TNG. But with Deep Space Nine, I never even got into it.
I'm not sure why. I think it has a lot to do with the set design. The station lacked this Sci-Fi technological feel I had with The Next Generation. I never warmed up towards Sisko and his son either. His character always seemed all over the place – sometimes strict and controlled, other times impulsive and emotional. And kids are always just annoying in Star Trek.
But going through the episodes now, I found some new respect towards the series. I really like the fact that the most reasonable people on the station seem to be the two female characters. The plots are often more complex, involve multiple parties with diverging interests. I appreciate that more now.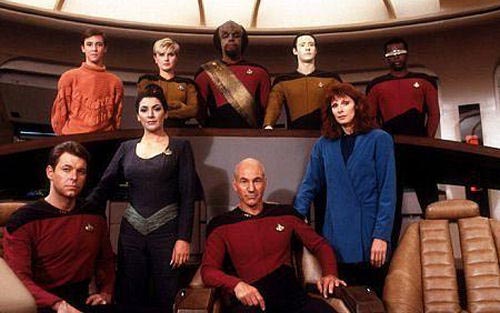 Still one of the greatest achievements of modern TV.
But this made me think what I liked about TNG so much. In a discussion I felt compelled to make a list of favorite episodes. I realized that most of them are from season 5 and 6. It seems to make sense. I remember that the early episodes were very awkward. None of the actors and writers seemed to have a feel for who the characters are. I feel like it's in seasons 5 and 6 where they hit their peak. So without further ado and in no particular order:
I feel like the best episodes were the ones where you would learn something new. Something scientific, ethical or philosophical. It would be something would stick in your mind even years afterwards.
There are some more. I really liked 7×23 Emergence, 4×16 Galaxy's Child and pretty much every episode with Barclay. I usually disliked any episode with Deanna Troi or Lwaxana Troi. And of course, I think the series has one of the best pilot episodes of a TV series ever! With that kind of start, there was no way they could have failed.
I'm not seeing similar favorites in DS9 yet, but I'm already more into it than I ever was. What about you? What are your favorite Star Trek episodes?