I'm playing Demon's Souls and I'm thinking about difficulty again. Why do so many people (me including) enjoy playing Demon's Souls so much, even though it's supposedly so difficult? It occurred to me that to some extent, Demon's Souls is actually not really difficult. It's a sheep in wolf's clothes. Let me give you an example.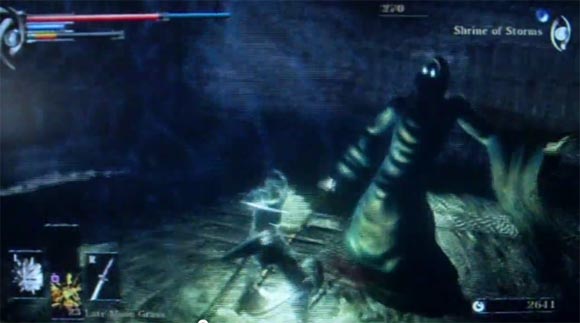 Is this is what happens to Jawas when the grow up?
I entered a level called Adjudicator Archstone. It's pretty much a stack of arenas filled with increasingly difficult enemies from top to bottom. I started inching my way down. I soon realized that I was in over my head. The enemies I encountered were the same as in the previous levels, but they were much more powerful. A new enemy, The Reaper was causing me some exceptional troubles. He would cause a huge army of less dangerous but annoying enemies to re-spawn over and over again. The reaper himself had a couple of spells that would kill me outright. I managed to defeat him once and opened a short-cut. But as I made my way to the arenas underneath, I encountered even more powerful enemies. I started running past them. It worked for a while. But then I ran around the corner right into the arms of another Reaper. My heart almost leaped out of my chest. Instant death. Desperate realization that 40k souls have been lost. I wouldn't be able to recover them. This is wasn't working at all.
The genius of Demon's Souls is that even though you are often back to "square one", you are still given lots of choices to proceed at any point. In my case I had the following
I came to the conclusion that I just wasn't doing any damage. Neither with my spells nor with my weapon. I looked at my stats and realized I leveled up my character too uniformly. I decided to grind the beginning of that level to increase my magic stats. My effectiveness increased steadily. So I reckoned that just in a few minutes, I would be able to proceed.

But in reality I was able to proceed much sooner. In just my second try, I accidentally realized that the Reaper that was giving me troubles was actually super-vulnerable to fire. So using a fire spell and slightly improved magic stats, I was able to deal with him with almost no trouble!

And if that wasn't enough, I noticed that the Reaper was dropping so-called Darkmoonstones. They were EXACTLY the item I needed to upgrade my current weapon.
So the apparent dead-end turned out to have 3 solutions. The combined effect of them completely turned the tables. On my next excursion into the lower levels, I made it to the boss in my first try and was able to defeat him. And all the time, I still had the choice to simply let it be and try one of the 4 other levels.
Let's contrast this with another game. I was recently also playing Sword and Sworcery. I got stuck on one of the bosses. In this game, if you die during a boss fight, you restart at the beginning of the fight with 1 health point and no way out. You are doomed to repeat the same fight over and over again until you get it right. There are healing items but they don't get restored. So once you run out, it gets even harder because you need to defeat the boss without getting hit at all.
Sword & Sworcery more difficult than Demon's Souls?
In some regard, Demon's Souls is actually less difficult. Both games let you run against difficult challenges. But while Sword & Sworcery leaves you stranded, Demon's Souls actually gives you a lot of choices to work a way out. It's a game where the difficulty is anticipated and supported by the game's systems. That's why the game stays engaging even when you fail so frequently.