Time for Monster Hunter Tri again. I finally killed the Barroth. It was a triumph. I'm making a note here: "huge success". It was also a good example of the Monster Hunter Tri experience.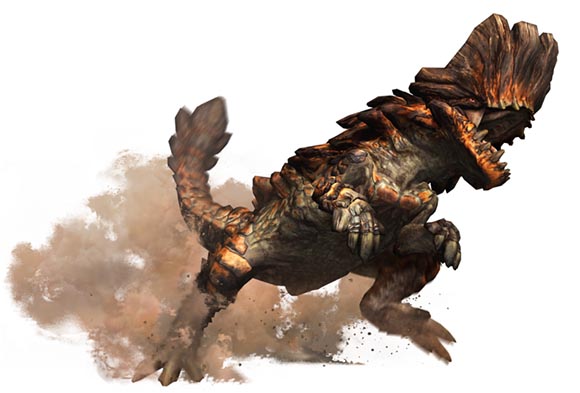 It should be obvious by now that the Barroth is one bad-ass monster. It's basically a mixture of a Tyrannosaurus Rex and a Rhinoceros. It is constantly angry and tries to trample you over. But that's not everything. It also bathes in mud and carries an ample supply of it on it's back. Every now and then it shakes itself and big slabs of the mud fall. When you get hit by the mud, you get encased in it, which prevents you from attacking or blocking, slows your movement and drains your stamina. And on top of it, the Barroth simply looks scary.
I did many attempts to hunt it down. I failed many times. I got the best results with the lance because it enabled me to simply block all his ramming attacks. However, I couldn't block the mud attack and it was always my doom in the end.
But the cool thing about Monster Hunter is that you can do something different if you get stuck. So I started collecting armor. From the beginning I sat my eyes on the Rhenoplos Armor, mainly because it looks ridiculous. It took me some time to get the elusive ingredients to craft the final pieces of it. A lot of Great Jaggi died for that one King's Frill. I actually finished a bunch of other armors before I was able to complete this one. Imagine my surprise when I went trough the list of abilities that armor set unlocked. One of them turned out to be immunity to mud.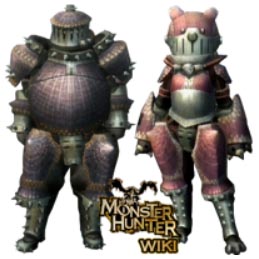 I haven't even noticed it. The solution to the Barroth problem was sitting right there in front of me. So I donned the new armor, took my trusty lance, set out for the desert to face the Barroth… and failed.
The armor was not the problem this time. I was able to hold out much longer than previously. However, I wasn't dealing as much damage as I needed. Blocking with the lance leaves you only with very weak attacks. To deal out the heavy combos you need to go from the blocking stance to a non-blocking stance. That switch takes too long, the Barroth is quicker. The fight got very long. Eventually my mistakes accumulated and I lost before I could do any significant damage.
Monster Hunter is not a game where you win simply with cool new gear alone. You need to hone your skills and your strategy. You need to adjust them so they bring out the best in the equipment you use. I went back to the drawing board and realized that I still had a talisman that enabled the skill "Auto-guard". People familiar with fighting games like Soul Calibur know the idea – your character will automatically block as long as you are not moving or attacking.
I had an idea. My new strategy was to… do nothing. I would let the terrifying Barroth trample all over me without even flinching. I would rely on the Auto-guard skill to block all the damage. Then, still in standing stance, I would turn around and execute the damaging combo.
A couple of heart-stopping minutes later, shortly before my healing potions ran out, the beast was slain. I made a new lance from its remains.